All hail the chief – in Prague
(Read article summary)
Czechs attribute their independence and the end of Communism to former American presidents, and have honored them with statues in Prague to show their gratitude.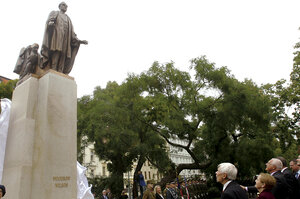 Petr David Josek/AP
• A local, slice-of-life story from a Monitor correspondent.
After 80 years, a world war, and several tectonic political shifts, a 10-foot-high bronze statue of US President Woodrow Wilson again stands in Prague outside the train station.
Czechs first erected the statue in 1928 to commemorate Wilson for backing their bid for independence, spelled out in his famous "Fourteen Points" speech. The statue stood for all of 13 years, when in 1941 the Nazi occupier forces decided to melt it down for cannons. Using photos and the statue's surviving head, a new statue was built and unveiled in October, part of a week-long celebration of Wilson.
The Wilson statue dedication follows the July 4 unveiling of a statue of Ronald Reagan near the US Embassy in Prague, to honor Reagan's efforts to end communism.