ISIS video: Is this Japanese beheading real or fake?
(Read article summary)
A new video claims that the Islamic State has executed one of their two Japanese hostages. Is it real?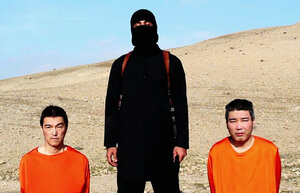 AP/File
True or false?
That seems to be the question surrounding a new video, released Saturday by the Islamic State, claiming that the militant group has executed one of their two Japanese hostages.
In the video, Japanese journalist Kenji Goto holds up a photo that purportedly shows the beheaded body of his companion, security contractor Haruna Yukawa. Mr. Goto, in an audio recording that plays over the image, reportedly blames Japan's prime minister for Yukawa's death.
Goto also says that the militants are now demanding the release of Sajida al-Rishawi, who is currently imprisoned in Jordan for her involvement in a 2005 attack on three Amman hotels.
"They no longer want money, so you don't need to worry about funding terrorists," the voice says in English. "… Again, I would like to stress how easy it is to save my life. You bring them their sister from the Jordanian regime, and I will be released immediately — me for her."
"This is an outrageous and unacceptable act," Japan's Chief Cabinet Secretary Yoshihide Suga told Reuters. "We strongly demand the prompt release of the remaining Mr. Kenji Goto, without harm."
The Japanese government has yet to verify the execution, BBC reported. And the US government is also reported to be trying to verify its authenticity. But suspicions have already surfaced. The audio recording of Goto speaking over a static image of himself is unlike previous ISIS videos, in which hostages were shown delivering messages themselves, USA Today reported.
One militant, via an Islamic State-affiliate website, has said that Saturday's message was fake. Another said that the message was intended only for Goto's family, while a third militant on the site said that the video was not released by the ISIS media group al-Furqan.
Saturday's video is the second purportedly released by ISIS this week. In both cases, questions have been raised about their authenticity.
The first video, posted Tuesday, showed Goto and Yukawa in the familiar orange jumpsuits of previous ISIS hostages. The two men were filmed kneeling on the ground on either side of a masked man in what appears to be an outdoor desert setting – also the same as in past videos.
In exchange for the men's lives, ISIS demanded a $200 million ransom from the Japanese government by Friday.
Veryan Khan, editorial director for the Florida-based Terrorism Research and Analysis Consortium, analyzed Tuesday's video frame by frame and found a number of inconsistencies. The men's shadows, for instance, converged with one another, suggesting more than one light source, she told Reuters. Under bright sunlight, the shadows would fall in the same direction.
She also noted that while the wind in the video seemed to make Yukawa's shirt flutter, Goto's shirt remained relatively still.
"It almost appears that there's a fan coming in one direction," Ms. Khan said.
That one video might be set in a studio with manipulated images also raises credibility issues with the second video. 
As The Washington Post put it: "It's an important point: The image the Islamic State sends out to the world doesn't always correspond with reality."
But the website metabunk.org says the shadows in the first video are exactly as they should be and demonstrates why the shadows converge.