Four suicide bombings in Nigeria. Is this Boko Haram's last gasp?
(Read article summary)
Five attacks - including four suicide bombings - that have left 54 people dead in Maiduguri, Nigeria, Saturday have been attributed to Boko Haram, which pledged allegiance to ISIS on Saturday. Is Boko Haram trying to keep a dying insurgency alive, or simply shifting in tactics?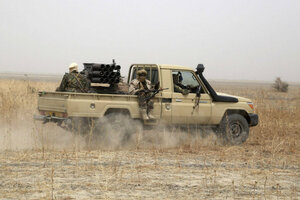 Emmanuel Braun/Reuters/File
Four suicide bombings in the Nigerian city of Maiduguri Saturday left at least 54 people dead and 143 injured, according to The Associated Press.
The attacks occurred over a four-hour period in locations that included a fish market and a bus station, both very crowded places, Police Commissioner Clement Adoda told the wire service.
A fifth blast from a car bomb at a military checkpoint outside the city wounded one soldier and two members of a civilian self-defense unit. The worst of the attacks killed 18 people after one suicide bomber set himself off in a tricycle taxi at the entrance to the Baga fish market, according to the same report.
While no one has yet claimed responsibility for the attacks, the bombings bear the marks of the Islamic extremist group Boko Haram, which is locked in a war with the Nigerian military and neighboring African nations as the group strives to create a caliphate in the country's northeastern region. After a string of military setbacks in January and February, the suicide bombings may be a desperate effort to regain the offensive – or simply a shift in tactics used by Al Qaeda and other terrorist groups when confronting overwhelming military force.
Later on Saturday, Boko Haram pledged allegiance to the Islamic State in an Arabic audio message with English subtitles alleged to have come from Boko Haramleader Abubakar Shekau and posted Saturday on Twitter, according to the SITE Intelligence monitoring service.
"We announce our allegiance to the Caliph of the Muslims ... and will hear and obey in times of difficulty and prosperity, in hardship and ease, and to endure being discriminated against, and not to dispute about rule with those in power, except in case of evident infidelity regarding that which there is a proof from Allah," said the message. IS leader Abu Bakr al-Baghdadi has declared himself the caliph, reported the Associated Press.
At least some of the suicide attacks Saturday were carried out by women or girls, according to the BBC. Last month, a teenage female suicide bomber blew herself up at crowded bus station, killing 16 people. Three more girls were involved in suicide attacks in January. Boko Haram began using teenage females – perhaps from among the hostages taken –  for the first time last year as suicide bombers, probably because they can evade security by hiding explosives under their hijab garments.
By some estimates, more than 13,000 people have been killed in the five years since the Nigerian insurgency began.
The past year has been especially violent, beginning with the kidnapping of 276 school girls in the town of Chibok in April. Boko Haram gunmen have since raided dozens of towns and cities, including the Nigerian capital of Abuja, and killed hundreds, if not thousands.
An attack on the town of Baga – along with 12 neighboring settlements and a multinational military base – early this year left anywhere between 200 to 2,000 people dead, according to reports.
The Nigerian military, plagued with allegations of corruption and its own brand of violence, proved unable to contain the conflict as Boko Haram began attacking villages in Nigeria's neighboring countries.
In January, the African Union approved the creation of a 7,500 troop-multinational force from Nigeria, Cameroon, Chad, Niger, and Benin to fight the extremists – a decision that met with the approval of the international community.
"Those terrorists should be addressed with regional and international cooperation," United Nations secretary-general Ban-Ki Moon said, according to Al-Jazeera America.
Undaunted, Boko Haram leader Abubakar Shekau released a video online that has since been taken down. In it, he addressed Chadian president Idriss Deby, saying, "Your alliance will not achieve anything. Amass all your weapons and face us. We welcome you."
Yet in some ways, the concerted military effort appears to be working. Boko Haram has pulled out of towns the group had long occupied, and the Nigerian military said it was able to repel the group when it tried to seize Maiduguri twice within a week at the end of January.
In mid-February, the armed forces announced that they had retaken Baga from the extremists.
"We are now in full control. There are only mopping up exercises left to do," Defense Spokesman Major-General Chris Olukolade told Reuters.
The military also said they had used air and ground strikes to recapture the garrison town of Monguno, about 40 miles from Baga, the same week, The Guardian of Nigeria reported.
Nigerian president Jonathan Goodluck went on record saying that the "tide has turned" against the extremists.
Then in early March, Boko Haram struck the town of Njaba, killing 68. That, along with Saturday's suicide bombings, show the extremists' "ability to mount large-scale attacks despite a growing multinational effort to check their advance," as The Christian Science Monitor put it.
The attacks come just weeks before the Nigerian presidential election, which was postponed until March 28 to give the multinational armed forces time to secure the country's northeast region.