How a Kenya teenager survived Al Shabab massacre
(Read article summary)
Cynthia Cheroitich stayed in hiding for two days after Al Shabab gunmen attacked Garissa University College in Kenya Thursday. The militants, targeting Christians, killed nearly 150 people during a 15-hour siege.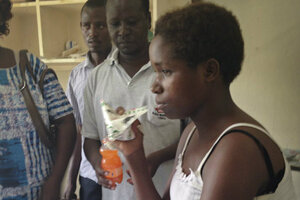 Christopher Torchia/AP Photo
Thursday's deadly attack at Garissa University College in Kenya had one teenage survivor so terrified, she refused to come out of hiding for two days.
Kenyan security forces found Cynthia Cheroitich, 19, hiding alone in a wardrobe Saturday morning, according to The Associated Press. At first, she didn't believe the rescuers were there to help.
"How do I know that you are the Kenyan police?" she had reportedly asked them.
Ms. Cheroitich emerged only after security forces asked one of her teachers to appeal to her. She had stayed in her closet, covered in clothes, even after some of her classmates had come out of hiding at the demand of the Islamist gunmen who had attacked the school, the AP reported.
When hunger and thirst grew unbearable, she drank a bottle of lotion, she told the wire service.
"I was just praying to my God," Cheroitich, a Christian, added.
Cheroitich's response was not unfounded: Al Shabab, the Somali-based militant group that had carried out the attack, killed 148 people during their 15-hour siege of the university. Most of the dead were Christian – a fact that is adding pressure to the already growing Christian-Muslim tension in communities across Kenya.
"They asked for Muslims, and then told them to step aside," one survivor told the BBC. "And then to confirm whether it was true they were Muslims, they were asked some questions from the Quran."
"If answered correctly, you are put aside. If you answer wrongly, you are shot on the spot," she added.
On Saturday, Kenyan officials said that they had arrested five men in connection to the attack, according to USA Today. Security agencies picked up two of the suspects in Garissa, where the attack took place, and brought in another three people who were trying to cross into Somalia.
Interior Ministry spokesman Mwenda Njoka said the latter are believed to be associates of Mohamed Mohamud, also known as Dulyadin Gamadhere, who authorities say masterminded the massacre. A former teacher at a Kenyan madrassa or Islamic school, Mr. Gamadhere now has a bounty on his head roughly equivalent to $220,000. 
Al Shabab, whose name means "the youth" in Arabic and who are allied with Al Qaeda, has also vowed to wage a long war with Kenya, promising to make its cities "run red with blood," Reuters reported.  
"For as long as your government persists in its path of oppression, implements repressive policies and continues with the systematic persecution against innocent Muslims, our attacks will also continue," the group said in a statement Saturday. "No amount of precaution or safety measures will be able to guarantee your safety, thwart another attack or prevent another bloodbath from occurring in your cities."
"This will be a long, gruesome war of which you, the Kenyan public, are its first casualties."
While the statement has not yet been verified, Kenyan security forces are treating it as legitimate, according to USA Today.
Following the extremists' threats, Kenyan President Uhuru Kenyatta vowed to take harsh measures against the Islamic militants.
In a nationally televised address, the Associated Press reported that Kenyatta said his administration "shall respond in the severest ways possible" to the Garissa attack, which occurred Thursday when four gunmen entered a campus and slaughtered students. The military moved in hours later and the gunmen were killed.
"We will fight terrorism to the end," said Kenyatta. "I guarantee that my administration shall respond in the fiercest way possible."
Kenyatta said the country's "security forces are pursuing the remaining accomplices. We will bring all of them to justice ... We are also in active pursuit of the mastermind (of the Garissa attack) and have placed a reward for his capture," said Kenyatta, who declared 3 days of national mourning.