Keith Broomfield killed: How many Americans are fighting against ISIS?
(Read article summary)
Keith Broomfield killed: An American from Massachusetts died fighting alongside Kurdish forces fighting ISIS in Syria. How many other Americans are participating?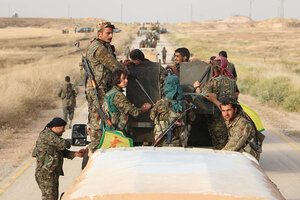 Rodi Said/Reuters/File
An American citizen was killed fighting with Kurdish pershmerga forces against the Islamic State in Syria, the US State Department confirmed on Wednesday.
State Department spokesman Jeff Rathke identified the man as Keith Broomfield. Broomfield is the first reported case of an American killed while fighting alongside Kurdish fighters. But he's not the only US citizen participating in the battle against ISIS in the region. 
Over the past two years, it's been estimated that "hundreds" of foreigners have joined Kurd forces in their battle against the Islamic State. The New York Times cites a spokesman for the Kurdish People's Protection Units who said that more than 100 American citizens are currently fighting in Syria.
Among the more high-profile foreign fighters is British actor Michael Enright, who is in Syria volunteering with Kurdish fighters. American filmmaker Matthew VanDyke trains Iraqi Christians in military tactics. In March, The New York Times profiled Patrick Maxwell, a former US marine, who last fall joined Kurdish peshmerga forces in Iraq as one of "a small number of Americans" joining the fight against the Islamic State.
But the Kurds haven't welcomed every foreign volunteer wanting to pick up a weapon.
The Washington Post cited Kurdish media outlet Rudaw in February saying lots of foreign fighters hoping to join the front lines with Kurdish peshmerga forces had been turned away. "The Pershmerga is a professional fighting force," Ministry of Peshmerga spokesman Helgurd Hekmat told Rudaw back then. "Just last week an American man arrived wanting to volunteer. I couldn't help him. Yes, they are volunteers, but we have to guarantee lives, and we can't do that."
According to Mustafa Said Qader, minister of pershmerga affairs, there are 160,000 peshmerga forces in Iraq and Syria.
Broomfield was from Massachusetts the Associated Press reports. Nasser Haji, an official with Kurdish People's Protection Units, YPG, told the news agency that Broomfield, who had joined the group on Feb. 24, died on June 3 in a battle in a Syrian village near northern border town city of Kobani.  He did not give any further information on the circumstances of Broomfield's death.
An official speaking to CBS News could not say how Broomfield's remains would be repatriated. The US has no diplomatic presence in Syria, and the Czech Republic acts as the US's protecting power in the country.
Most of the foreign fighters traveling to the Middle East to fight are seeking to do so for the Islamic State. In May United Nations estimated that there are more than 25,000 "foreign terrorist fighters" from over 100 countries in the region fighting for ISIS or the Al-Nusra Front, Syria's al-Qaeda franchise. The number has increased since November 2014 when the organization set the numbers at over 15,000 fighters from more than 80 countries.
On Feb. 26, Gen. James Clapper, the US director of national intelligence, told Congress the intelligence community now estimates that 3,400 citizens from Western nations have traveled to Syria and Iraq. The number of US citizens who have traveled - or attempted to travel to Syria – to fight for any rebel group, including ISIS, battling the Assad regime is now estimated at 180, up from 100 late last year. But some Americans have returned, some didn't get to Syria, so the actual number of Americans fight for ISIS is estimated at "around a dozen," according to Mr. Clapper.
Backed by US-led coalition airstrikes, Kurdish fighters pushed back Islamic State fighters from Kobani last January after a four-month siege by jihadists.
On June 4, The Wall Street Journal cited peshmerga commanders who had reported that the fighters' ammunition stocks were running low and their heavy weapons were mostly of Saddam Hussein-era vintage.
The US does not send arms directly to the Kurds. All weapons sent from the US to the fighters go through the central government in Baghdad and the delivery process is reported to be lengthy. 
The question of US military involvement in the fighting remains controversial. Republican lawmakers and some Democrats are in favor of providing direct military assistance to the Kurds and Sunni tribes, writes The New York TImes, while Shiite politicians in Baghdad are against the proposal, accusing the US of encouraging Kurdish independence.