Why Malaysia's prime minister's bank account is frozen
(Read article summary)
Malaysian investigators have frozen six bank accounts in their probe of how $700 million from a government fund appear to have ended up with Prime Minister Najib Razak. At least one of the frozen accounts belongs to the prime minister.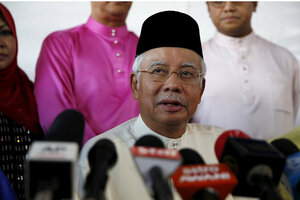 Olivia Harris/Reuters
Malaysian authorities said Tuesday they have ordered six bank accounts to be frozen in connection with an investigation into Prime Minister Najib Razak's finances, The Wall Street Journal reported.
At least one of the frozen accounts belongs to Mr. Najib, according to a source cited by the Journal.
Investigators have also seized documents relating to 17 accounts from two banks, said leaders who are carrying out the probe – among them an attorney general, the central bank, the police department, and Malaysia's national anti-corruption agency – in a joint statement. The identities of other account holders have not been released.
The government is looking into how almost $700 million in deposits from a troubled state investment fund made their way into what appear to be Najib's personal bank accounts. The investigation intensified on Thursday after documents directly implicated the prime minister, who founded the fund, 1Malaysia Development Bhd. (1MDB).
Speaking out Sunday for the first time at a mosque outside Kuala Lumpur, Najib slammed the accusations as "a vile allegation" and "political sabotage," reported Agence France-Presse.
"I have referred this matter to my lawyers and they will advise me on what legal action I should pursue both in Malaysia and abroad," Najib said. "God willing, I will make a decision in the next few days on what action I will take against this malicious allegation."
The prime minister also threatened legal action against The Wall Street Journal, who broke the story and have published documents from the investigation.
Najib's political secretary, Sinar Harian, has described the reports as "criminal defamation," according to local newspaper The Star.
Critics have long questioned where the proceeds in the debt-ridden 1MDB fund are going. A New York Times report earlier this year about Jho Low, a Malaysian investor and 1MDB's unofficial consultant, discussed how the money was in 2011 directed to a Cayman Islands company and "managed by an investment firm that 1MDB only recently identified." It was later returned to 1MDB amid rising public outcry.
The probe comes just months after by-elections in Malaysia indicated a dip in approval ratings for the prime minister's Barisan Nasional party, according to Bloomberg. Najib's own approval numbers had slid to around 40 percent amid unpopular new economic measures, including a consumption tax introduced this year.
Deputy Prime Minister Muhyiddin Yassin emphasized the gravity of the investigation as he spoke to reporters Saturday. "These allegations are serious because they can affect the credibility and integrity of Mr. Najib as prime minister and the leader of the government," he said, according to the Wall Street Journal.
Also over the weekend, Malaysia's currency plummeted, and has fallen to a record low since the Asian financial crisis, according to Agence France-Presse.
"The ringgit is Asia's worst-performing currency this year, down 8.2 percent against the dollar," The Wall Street Journal reported Monday.
To regain some public trust, local election watchdog Bersih 2.0 said the task force would have to continue to be transparent with the ongoing investigation.
While the civil rights group worries about the "impartiality" of the investigations, it has no choice but to rely on the authorities, Chairwoman Maria Chin Abdullah told local news.
"If after a month nothing happens, and none of the public institutions want to tell us what is happening, everyone will be furious," said Ms. Chin Abdullah at a press conference on Monday.