Why China is miffed at US ship legally sailing through South China Sea
(Read article summary)
A US destroyer sailed within 12 nautical miles of Fiery Cross Reef in the South China Sea Tuesday. And while this US navigation is considered legal by international maritime law, China sees the move as provocative.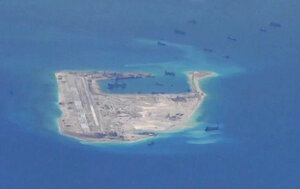 US Navy Handout/Reuters/File
A United States warship sailed within 12 nautical miles of a man-made Chinese island in the South China Sea Tuesday, the latest move in a series of territorial disputes in the region. 
The USS William P. Lawrence, a guided missile destroyer, traveled near Fiery Cross Reef, a 700-acre artificial island built in the past two years by the Chinese military, which controls the island. 
According to international agreements, each coastal state may lay claim to territorial sea up to 12 nautical miles from the land's coast, explains the US National Oceanic and Atmospheric Administration. This claim includes sovereignty "over its territorial sea, the air space above it, and the seabed and subsoil beneath it." Foreign ships, however, are permitted "the right of innocent passage" while sailing through territorial seas. 
Not only does China assert claim to Fiery Cross Reef (which Taiwan, Vietnam, and the Philippines also claim to own), but the country also seems to disagree with international maritime law. Under the United Nation's Law of the Sea Convention, the USS William P. Lawrence was exercising legal navigation rights.
"If the world's most powerful navy cannot sail where international law permits, then what happens to the ships of navy of smaller countries?" Daniel Russel, the assistant secretary of State for East Asia and the Pacific, told reporters at a press conference. "If our warships can't exercise its legitimate rights under international law at sea, then what about the fishermen, what about the cargo ships? How will they prevent themselves from being blocked by stronger nations?" 
And the timing and location is more than a coincidence, say experts.
"Fiery Cross is sensitive because it is presumed to be the future hub of Chinese military operations in the South China Sea, given its already extensive infrastructure, including its large and deep port and 3,000-metre runway," Ian Storey, a South China Sea expert at Singapore's ISEAS Yusof Ishak Institute, tells Reuters. "The timing is interesting, too. It is a show of US determination ahead of President Obama's trip to Vietnam later this month." 
The Philippines filed a case to the United Nations against China in 2013, arguing that China holds an illegitimate claim to the South China Sea. A five-person UN Permanent Court of Arbitration is expected to rule on the matter in coming weeks 
"The relevant Chinese department took measures of monitoring, tracking and warning in accordance with the law," said Chinese Foreign Ministry spokesman Lu Kang in a press briefing, adding that the US ship had illegally entered Chinese waters. "I have to point out, this action by the US side threatened China's sovereignty and security interests, endangered the staff and facilities on the reef, and damaged regional peace and stability."
But the region has hardly been a picture of peace and stability in recent months. From surface-to-air missile batteries on the tiny Paracel Islands to satellite images of a radar facility on southern Spratly Islands, "China's steady buildup has US officials increasingly warning that, if left unchecked, Beijing would gain de factor control over the disputed South China and raise the risk of military conflict," explains The Monitor's Michael Holtz. 
In October, the USS Lassen made a similar demonstration, passing within 12 miles of Subi Reef in the Spratly Islands. And similarly, China criticized the move by the US as a violation of Chinese sovereignty.
"It should not come as a surprise to anybody that we will exercise freedom of navigation wherever international law allows," US chief of naval operations John Richardson said after the US October passage. "I don't see how this can be interpreted as provocative."