US sanctions North Korea over human rights: What effect will it have?
(Read article summary)
The US sanctioned North Korean leader Kim Jong Un for the first time on Wednesday over his 'notorious abuses of human rights.'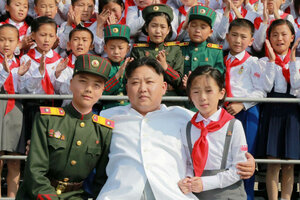 KCNA/Reuters/File
The United States sanctioned North Korean leader Kim Jong Un for the first time on Wednesday, in conjunction with a report officials say is "the most comprehensive" to date on individual North Korean officials' roles in human rights violations.
The report, which was mandated by the US Congress under the North Korea Sanctions and Policy Enhancement Act, cited "notorious abuses of human rights" suffered at the hands of Kim Jong Un and other officials. The sanctions targeted the supreme leader and 10 other individuals, as well as five government ministries and departments, including two ministries that run North Korea's secret police and operate prison camps. 
"Human rights abuses in the DPRK are among the worst in the world," said US Department of State spokesman John Kirby in a statement. "The government continues to commit extrajudicial killings, enforced disappearances, arbitrary arrest and detention, forced labor, and torture."
Officials told reporters that while the move would be partly "symbolic," they expect the sanctions to have a "worldwide ripple effect," making it more difficult for those named to do business with global financial institutions. 
"It lifts the anonymity," one senior administration official explained. 
But critics say the sanctions are more likely to infuriate North Korea than induce change.
"The sanctions from today will do nothing whatsoever to alter North Korea's strategic calculus and only underscore their thinking that the US has a 'hostile policy' against their country," Michael Madden, a visiting scholar at the US-Korea Institute at Johns Hopkins School of Advanced International Studies, told Reuters. He predicted an "epic" reaction from Pyongyang, with "numerous official and state media denunciations."
Past sanctions imposed against North Korea have been largely unsuccessful in accomplishing their intended results, say scholars who study the North Korean government. 
In March, both the UN Security Council and President Obama sanctioned the country in response to its nuclear and missile tests, but, as the Christian Science Monitor's Bamzi Banchiri reported in April, "North Korea has continued to be belligerent, underscoring various doubts that the sanctions wouldn't work."
Victor Cha, the Korea chair at the Center for Strategic and International Studies, says that the new human rights sanctions reflect Mr. Obama's intention to force North Korea to rejoin talks to rein in its nuclear program if presumptive Democratic nominee Hillary Clinton should win the presidential election. 
"They basically made a decision that their best chance at ever getting a negotiation going with North Korea would be to basically follow the Iran template, which was to put as much pressure as they could on the regime with the hope that they would ultimately have to go back to the talks," Mr. Cha told The New York Times. 
Cha warned that in the short-term, however, the sanctions could have the opposite effect. He cited the country's reaction to "The Interview," a 2014 American-made comedy which depicted the assassination of Kim Jong Un and prompted North Korea to hack the computers at Sony Entertainment and threaten violence against movie theaters. 
"That's just fiction; this is real life, and they may react very negatively to the designating of basically their god," Cha said, predicting "a lot of belligerent activity by North Korea" in the coming months.
Despite widespread doubts that the human rights sanctions will achieve their intended effect, others say the measure sends a necessary signal. 
"There are those who will feel that this will make the task of negotiating that much more difficult, but the reality is that Kim Jong-un has shown no propensity and no willingness to pursue a negotiated solution," Christopher Hill, former assistant secretary of state for East Asian and Pacific Affairs who headed the American delegation to diplomatic talks on North Korea's nuclear program, told the Times.
"It's kind of a well-deserved punishment," he said.
This report contains material from Reuters.