Who betrayed Anne Frank? Maybe no one.
(Read article summary)
new thinking
A new report from the Anne Frank House offers a different explanation for how Anne Frank was discovered by Nazi police.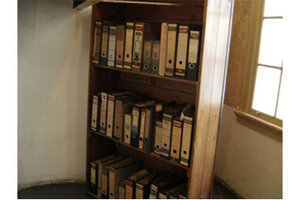 Courtesy of Erik Möller
The mystery of Anne Frank's disappearance has always centered on her betrayal. 
Right before German soldiers raided the secret Amsterdam annex, the story goes, someone placed a call to the security service that led them to the hiding place in the annex behind a movable bookcase. But a new paper from the Anne Frank House suggests that narrative stems from a flawed assumption. 
"This explicit focus on betrayal ... limits the perspective on the arrest," writes House researcher Gertjan Broek. Instead, the focus should turn "on the raid itself: Why did this raid take place, based on what information, and from where did this information originate?" 
Using a different, typically overlooked passage from Anne's diary as a reference point, Dr. Broek and other researchers sought out police reports and judicial documents from various parts of the Netherlands. They concluded that the raid might have happened not because someone gave them up, but because of ration-card fraud and other "economic violations" by people living at the house – crimes that could have led investigators to suspect that someone was being sheltered there. 
This alternative narrative highlights how much of Anne's fate remains a mystery. While she wrote extensive notes about her days in hiding, the uncertainty around her capture may have helped stoke the lingering fascination with her story.
In a September paper, University of Colorado-Denver professor Rudi Hartmann noted that what happened after Anne and the rest of the group were arrested – including her stays at three different concentration camps – remains obscured.
"The unsolved circumstances of the betrayal represent a distinct feature in the public construction of the Anne Frank narrative," he wrote. "Speculations about what might have happened to Anne continue to abound, and reports regularly reach the media about new findings, for instance, as to when and how she died."
Other experts may not accept the new theory.
Several Dutch authorities, as well as biographers of Anne Frank and her father, have pinned the annex's discovery on a single person, with varying degrees of certainty.
A 1998 book by Austrian biographer Melissa Muller pointed to maid Lena Hartog. In 2002, the son of Tonny Ahlers, a deeply anti-Semitic businessman whose firm did business with Anne's father, told biographer Carol Ann Lee that he was certain his father had denounced the Franks to the Nazis, the Guardian reported at the time. 
Both of those suspects, along with a third possibility, were considered in a 2003 report by the Netherlands Institute for War Documentation – though the report eventually concluded that none of the three was a "likely candidate."
Broek and the other Anne Frank House researchers developed their theory based partly on a March 1944 entry in which Anne wrote about the arrest of two salesmen for dealing with illegal ration coupons. The two men worked at the firm where Anne's father Otto Frank ran his business, and where the group was also hiding. Those men, Anne noted in her March 14 entry, helped secure food coupons for her and the other people in hiding. And two others who worked at the firm, including its acting director, had been arrested for their efforts to keep employees from being called into forced labor in Germany.
The investigators that made the arrests, says the report, weren't from a unit that focused on hunting down people in hiding. Instead, their department investigated cases involving jewelry, securities, and cash. And the police spent over two hours at the property -- long enough to stumble into the hiding place, but presumably longer than it would have taken to arrive and make arrests if they'd had a clear idea of where the annex was.
"A company where people were working illegally and two sales representatives were arrested for dealing in ration coupons obviously ran the risk of attracting the attention of the authorities," writes Broek.