Paris snow tapers off, but travel and tourism still affected
Paris snow is unusual, but not unique. The Eiffel Tower and most forms of travel were hampered by the Paris snow.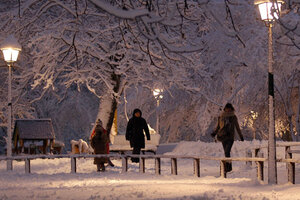 AP Photo/Christophe Ena
Paris airports are running smoothly again a day after snowfall caused flight chaos, and an icy Eiffel Tower is set to reopen partially.
The monument was shut down completely Wednesday after about four inches of snow fell in the French capital. It wasn't clear when it would begin reopening Thursday.
Officials say they can't sprinkle the tower's floors with salt because it could cause damage.
Some travelers had to sleep at Charles de Gaulle after the airport shut down for about an hour and a half Wednesday, sparking flight chaos.
Road traffic is still badly disrupted Thursday. Such levels of snowfall are unusual in Paris.