Sudan threatens to unseat South Sudan government amidst clashes
Omar al-Bashir said he would "liberate" the people of South Sudan if fighting over oil revenues continue.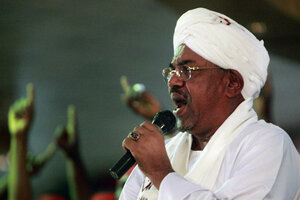 Mohamed Nureldin Abdallah/AP
Sudan's president threatened Wednesday to topple his rival government to the south, harsh words that could escalate the conflict between the two nations as they intensify clashes over their shared border.
As the international community pushed for a peaceful solution to the dispute, Sudanese President Omar al-Bashir vowed to "liberate" the people of South Sudan, saying it was his country's duty to them.
South Sudan broke away from Sudan in July after decades of civil war, creating the world's newest country. But the two never agreed on how to share the oil wealth found in the region between the countries, and the border was never fully demarcated.

Test Your Knowledge
Could you pass a US citizenship test? Find out.
RELATED: South Sudan: 5 key questions answered
Fighting has intensified in the last several weeks amid fears the two sides could return to an all-out war. On Tuesday, soldiers from Sudan and South Sudan clashed at a river dividing their two countries, leaving 22 dead as fighting spread to a new area of the tense border.
The river battle comes amid wider violence along the shared border around the oil town of Heglig, which South Sudan troops took control of last week. Sudanese aircraft have been bombing South Sudan's Unity State as a part of that fighting.
Speaking to young members of his ruling party in Khartoum late Wednesday, the Sudanese president accused the ruling South Sudan People's Liberation Movement and its army of implementing an "external" agenda that don't serve its own people.
Al-Bashir accused Juba of trying to topple his government and vowed to retaliate.
"This situation makes it imperative upon Sudan to confront the challenge of the State of South Sudan to topple the government in Khartoum by working to liberate the Southern nationals," from the southern ruling party, he said.
Al-Bashir is known for his tough rhetoric. His troops were surprised by the capture of the oil-rich town and have vowed to reclaim it, but his government also is using diplomatic channels to try to resolve the issue.
Mustafa Osman Ismail, a top adviser to al-Bashir, warned South Sudan that it must immediately withdraw from Heglig or face counterattacks. Ismail spoke in Ethiopia's capital, where he met with Prime Minister Meles Zenawi and African Union officials.
He said the trip was intended to "ask those with influence" to persuade South Sudan to withdraw from Heglig. Ismail said al-Bashir called several heads of state and sent his foreign minister to South Africa to work on the issue.
"Time is running short, and our army is also getting ready," said Ismail.
He said Khartoum is under pressure from Sudan's public to liberate "the invaded territory" after South Sudan TV broadcast images of what he said are medical staff captured in Heglig.
Al-Bashir said it is the responsibility of his government to rid the southerners from the ruling party in the south, The Sudan People's Liberation Movement, because it was his government that helped them seize power.
"It was we who have contributed to empowering the SPLM in the South and therefore we are responsible before our people in the South to correct the mistake we have committed," he said.
African Union mediator Thabo Mbeki urged the U.N. Security Council on Tuesday to take action to stop the fighting between Sudan and South Sudan, warning that both sides are locked in a "logic of war" with hardliners increasingly in control.
Security Council members promised to urgently discuss the crisis, including the possibility of sanctions, said U.S. Ambassador Susan Rice, the current Security Council president. She briefed reporters about the former South African president's closed discussion with the council via videoconference.
Rice said Mbeki told the council that Khartoum believes South Sudan is seeking regime change in its northern neighbor "and that if that is the case, then the objective of Khartoum would also be regime change" in the South.
"Frankly, one would hope that that is rhetoric and not the objective or the purported objective of either side," Rice said.
A Sudan foreign ministry official denounced Rice's comments Wednesday.
"This means treating the culprit and victim equally," Foreign Ministry spokesman Omar Dahab said. He said the "aggression" by Southern Sudanese troops on the Heglig area was a "flagrant violation" of the U.N. charter.
"It is the duty of the Security Council to find an end to the situation in Heglig," Dahab said.
RELATED: South Sudan: 5 key questions answered
Tuesday's firefight began after a Sudanese soldier shot a South Sudan soldier who was getting water from the river, South Sudan government spokesman Barnaba Marial Benjamin said Wednesday.
In all, seven South Sudan soldiers and 15 Sudan soldiers died near the town of Meiram, along the border with Sudan's South Kordofan state and South Sudan's Northern Bahr el Ghazal state, he said.
But even as border violence spread to new regions, Benjamin labeled the fight a "misunderstanding" and said he did not think violence would continue there.