Twenty hostages escape from Islamic militants in Algeria, reports
Twenty foreign hostages – including some Americans and Europeans – have escaped from Islamic militants holding them at an Algerian natural gas facility, says an Algerian source. The militants said they had captured 41 foreigners, including seven Americans, yesterday.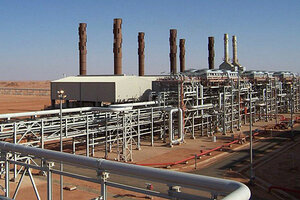 (AP Photo/BP)
At least 20 foreign hostages escaped Thursday from Islamist militants who had taken over an Algerian natural gas complex in the Sahara desert, an Algerian security official reported.
Americans and Europeans were among those who escaped, he said, without elaborating. He spoke on condition of anonymity because he was not authorized to speak to the press.
Al Jazeera and Reuters are also reporting that that 35 hostages and 15 militants were killed.
At least 20 gunmen attacked the vast complex early Wednesday in retaliation for France's military intervention against al Qaeda-linked rebels in neighboring Mali.
The militants, who claimed to have 41 hostages, have been in a tense standoff since then, surrounded by the Algerian military, which has helicopters flying over the plant.
Some 30 Algerian workers fled the complex earlier in the day, suggesting that the militants are having trouble managing the many hostages they have taken at the vast natural gas complex, the third largest in oil-rich Algeria.
Algerian authorities, meanwhile, were talking with tribal Algerian Tuareg leaders in hopes of mediating the dispute that involves dozens of hostages
The group claiming responsibility — called Katibat Moulathamine or the Masked Brigade — originally said it had captured 41 foreigners, including seven Americans, in the surprise attack on the Ain Amenas gas plant, 800 miles (1,300 kilometers) south of the capital of Algiers.
Two people, one a Briton and the other Algerian, were killed in the initial assault, which the U.S. defense secretary has called "a terrorist attack." The kidnapping is one of the largest ever attempted by a militant group in North Africa.
The hostage-takers are reportedly seeking a safe passage out of the isolated area, something Algerian authorities have already rejected.
Another Algerian official, also not authorized to speak publicly about the attack, said authorities are in contact with tribal elders among Algerian Tuaregs, who are ethnically related to the rebels fighting the Mali government, some of whom have close al-Qaida links.
The France-based head of a catering company at the plant told French media before the latest escape that some 40 foreigners appeared to be held hostage in a separate area from the Algerian workers.
Regis Arnoux of the Mareseille-based CIS Catering company said while electricity to the plant has been cut, it had at least three weeks of food supplies.
Militants phoned a Mauritanian news outlet to say one of its affiliates had carried out the operation and that France should end its intervention in Mali to ensure the safety of the hostages.
But the militants themselves appeared to have no escape, cut off by surrounding troops and army helicopters overhead. Algerian Interior Minister Daho Ould Kabila said it appeared that the militants were hoping to negotiate their departure away from the area — a notion he rejected.
"Security forces have surrounded the area and cornered the terrorists, who are in one wing of the complex's living quarters," Kabila said.
Kabila also rejected theories that the militants had come from Libya, 60 miles (100 kilometers) away, or from Mali, more than 600 miles (1,000 kilometers) away. He said the roughly 20 well armed gunmen were from Algeria itself, operating under orders from Moktar Belmoktar, al-Qaida's strongman in the Sahara.
Yves Bonnet, the former head of France's spy service, also dismissed the idea that the operation was specifically linked to the French action in Mali due to the amount of organization it involved.
"It was an operation conceived well in advance — spectacular and needing a lot of preparation ... It was not at all an improvised operation," he told the Europe 1 radio. "The operation was probably already scheduled and simply getting all those people into the desert would take several days."
It is certainly the largest haul of hostages since 2003, when the radical group that later evolved into al-Qaida in North Africa snatched 32 Western tourists. This is also the first time Americans have been involved.
BP, the Norwegian company Statoil and the Algerian state oil company Sonatrach, operate the gas field. A Japanese company, JGC Corp, provides services for the facility as well.
It was not immediately possible to confirm the identities of the hostages. Ireland said a 36-year-old Irish man was among them, and Britain and the U.S. said their citizens were taken, without giving numbers. The Norwegian company Statoil said 12 of its employees were captured — nine Norwegians and three locals. Japanese media reported at least 3 Japanese among the hostages and the Malaysian government confirmed two of its citizens were taken.
British Foreign Secretary William Hague told BBC radio on Thursday that he has dispatched a team to Algeria to help at the British embassy there.
"Excuses being used by terrorists and murderers who are involved — there is no excuse for such behavior, whatever excuse they may claim," he said. "It is absolutely unacceptable, of course. It is, in this case, the cold-blooded murder of people going about their business. So there is no excuse, whether it be connected to Libya, Mali or anywhere else."
In Rome on Wednesday, U.S. Defense Secretary Leon Panetta declared that the U.S. "will take all necessary and proper steps" to deal with the attack in Algeria. He would not detail what such steps might be but condemned the action as "terrorist attack."
BP said it would not identify staff members who were taken hostage for security reasons.
"BP's overriding priority is to do all we can to ensure the safety of our staff and to support their families during this anguishing time," BP CEO Bob Dudley said in a statement. "All our efforts are focused on supporting the authorities to secure a peaceful resolution of the situation and the safe return of our colleagues and all other workers being detained."
______
Schemm reported from Rabat. Associated Press writers Lori Hinnant in Paris and Robert Barr in London, contributed to this report.
press.
Copyright 2013 The Associated Press.