Polish riots result in attempted attack on Russian embassy
Polish riots: Young men tried to scale the wall at the Russian embassy in the Polish capital Monday. Several people were arrested as an outcome of the Polish riots.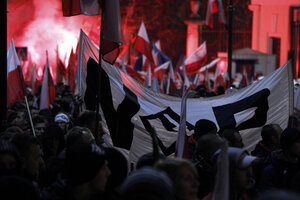 Kacper Pempel/REUTERS
Young Poles torched cars, threw stones at police and tried to climb the fence at the Russian Embassy after setting a guard's booth ablaze during a march Monday by nationalists marking Poland's Independence Day.
Police responded with tear gas and stun grenades, while detaining around a dozen people from a group of a few hundred mostly masked men who initially walked in the march.
Poland's Foreign Ministry spokesman Marcin Wojciechowski condemned the actions at the Russian Embassy in Warsaw in particular. "There is no justification for hooliganism," Wojciechowski wrote on Twitter.
Police spokesman Mariusz Sokolowski said five police officers and some other people were hospitalized with injuries they sustained during the clashes.
Thousands of nationalists marched through downtown Warsaw chanting against the government of Prime Minister Donald Tusk. Their Independence Day march has turned violent before, prompting many residents to call on city officials to ban it.
Warsaw authorities, who initially allowed Monday's march, declared it illegal after the violence, but that did not stop the marchers.
Elsewhere in the capital and country, many Poles held peaceful events in memory of the country's regaining sovereignty in 1918 as a result of World War I.