Taxi driver, cruise ship passenger killed as extreme winds pummel Britain
Wind gusts up to 80 miles per hour ripped across Britain Saturday. In London a taxi driver was killed when part of a building fell on her car. In the English Channel an elderly cruise passenger died when a 'freak wave' struck his ship.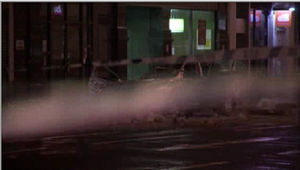 Strong winds that pummeled Britain killed a taxi driver, whose car was crushed by falling chunks of stone from a building, and an elderly man who died after a "freak wave" struck a cruise ship in the English Channel, officials said Saturday. Another 15 cruise ship passengers were injured.
The taxi driver was killed late Friday in central London near Holborn subway station during a windstorm, police said. She was identified as Julie Sillitoe, a 49-year-old with three sons.
The 85-year-old cruise ship passenger died after 80 mph wind gusts kicked up giant waves in the English Channel on Friday afternoon, endangering safety in the crowded shipping lanes used by commercial vessels, cruise ships and pleasure craft. Cruise and Maritime Voyages said a "freak wave" broke five windows on its Marco Polo cruise ship, inundating the ship's Waldorf Restaurant.
Spokesman Paul Foster said the man died before he could be airlifted for emergency treatment. The cause of death hasn't been determined, he said.
The company said a second passenger was airlifted and is being treated for injuries not thought to be life-threatening. Another 14 passengers were treated on board for minor injuries, the company said.
The Marco Polo was carrying 735 mostly British passengers and 349 crew members when the wave struck. It had been returning to its home port of London Tilbury after a 42-day cruise.
The army rescued 30 people from a seafront restaurant in Hampshire, southwest of London, after high winds blew a shingle through its windows, allowing floodwaters in.
Officials said 22 severe flood warnings are in place, meaning lives are in danger in those areas. More heavy rain and winds are expected Saturday.
In Hertfordshire, north of London, residents of 17 homes were evacuated Saturday after a 20-foot deep sinkhole developed overnight on a quiet residential street.