Explosion fells building outside Paris, killing at least 2
Rescuers are still trying to find survivors in the four-story building in Rosny-Sous-Bois. The explosion may have been caused by a gas leak, but investigations are ongoing.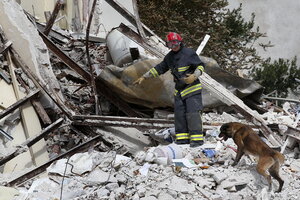 Christophe Ena/AP
A four-story building in a Paris suburb collapsed after an explosion on Sunday morning, killing a child and an elderly woman, and emergency teams are searching the rubble for others still missing.
About 150 emergency workers were on hand with sniffer dogs trying to find six people unaccounted for, said the prefect of Saint-Seine-Denis, Philippe Galli.
An 8-year-old child died in the building's collapse, and firefighters found an unconscious 80-year-old woman in the debris who died while being taken out, fire department spokesman Gabriel Plus said.
Ten people, four of them seriously wounded, were pulled out of the rubble, he said.
Interior Minister Bernard Cazeneuve, speaking to reporters at the scene, said the explosion at around 7 a.m. local time appeared to have been caused by a gas leak.
"We should be prudent, because there are investigations ongoing. There is no certainty," he said.
One side of the building in the suburb of Rosny-Sous-Bois was ripped off completely, exposing the interiors of the apartments. Local authorities said the structure itself appeared to conform to building codes.
Local residents who rushed to help in the moments after the blast described a nightmarish scene.
"We tried to take people out," said Arafet Brahim, who said he and his friends pulled out some children who appeared to be in good shape, but also found remains of the deceased.
"Frankly it was horrible, I don't know how to describe that moment," he said.
(Reporting by Morade Azzouz; Writing by Alexandria Sage; Editing by Andrew Roche)