Pakistan: Major militant attacks in recent years
Pakistan has been gripped by an insurgency for more than a decade, an internal war with the Taliban and other radical groups that has killed tens of thousands of civilians and security personnel since successive governments in Islamabad joined the United States and its allies in a war against Al Qaeda, the Taliban, and Islamic extremism in 2001.
A look at some of the major attacks in Pakistan in recent years: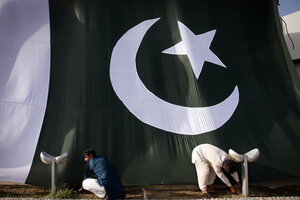 Athar Hussain/REUTERS
2014

Dec. 16: Taliban gunmen attack and kill at least 126 people at a school on an Army installation in Peshawar.

Nov. 2: Taliban suicide bomber kills 60 in attack on a paramilitary checkpoint close to the Wagah border crossing with India.

June 9: Ten gunmen disguised as police guards attack a terminal at Pakistan's busiest airport with machine guns and a rocket launcher, killing 13 people during a five-hour siege.

June 8: A suicide bomber in the country's southwest killed at least 23 Shiite pilgrims returning from Iran.