On a mission to make Philadelphia the most accessible US city for the arts
The benefits of experiencing the arts are well documented, but some people can be left out. This story looks at how one man and his organization have made progress in addressing this challenge.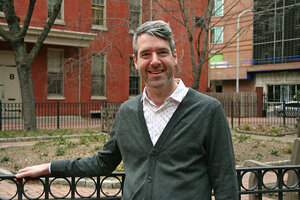 David Karas
Throughout her adult life, Eleanor Childs has been immersed in arts and culture, be it through attending concerts, visiting museums, or facilitating students' access to such experiences when she was a school administrator.
But over the past decade and a half, she has been losing her sight, and she's had to confront some difficult questions.
"You have to begin to think, What can I still do? How am I going to live my life the way I lived it when I had my vision?" she says. "Am I going to lose my ability to participate in different things that are important to me?"
Thanks to the nonprofit Art-Reach in Philadelphia, she has not had to give up her love of the arts in her retirement.
"I have gone to plays, dance performances, and concerts, [and] I even participated in a ceramics workshop," says Ms. Childs, noting that Art-Reach has made those opportunities possible for her and others who are blind or visually impaired. "They have offered us a chance to keep the arts and cultural experiences in our lives in a very enjoyable way."
Art-Reach, founded some 32 years ago, works to ensure that arts and culture opportunities are accessible to all. It focuses on access for people with disabilities as well as for individuals for whom the arts are not an option financially. The nonprofit has more than 200 cultural partners and works with another 200-plus human services organizations.
At the helm of Art-Reach is executive director John Orr, who in his tenure since 2015 has dramatically expanded the reach of the organization. He articulates its mission with passion.  
"Our intention is to make Philadelphia the most accessible arts city in the country," he says. "We want the arts sector to improve, [and] we want the disability community to feel more engaged."
Mr. Orr has held positions at a number of arts and culture organizations, going back to his first visitor services job at the age of 17. From July 2014 to June 2015, he served as president of the Museum Council of Greater Philadelphia.
In an interview at Art-Reach's offices, just a short walk from many of Philadelphia's cultural highlights – including the Barnes Foundation and the Philadelphia Museum of Art – Orr describes how the nonprofit's approach has evolved.
Early on, Art-Reach primarily worked to obtain tickets from cultural organizations that it then distributed to disabled people and others who might not otherwise experience the arts. Its efforts now go far beyond ticket distribution. And it's taken a more expansive view of various things, such as what an accessibility ramp is.
"[We] moved this idea of 'we need a ramp' to think about all sorts of ramps people need," Orr says. "A person with a cognitive disability needs a much different metaphorical ramp than someone who uses a wheelchair. What kind of ramps, physical or not, are we creating for all people to get access to the arts?"
Smelling the flowers
One popular Art-Reach program brings those who are blind or visually impaired to the Philadelphia Flower Show, providing audio tours and opportunities to touch and smell some of the flowers. A docent provides narration of the various arrangements.
Another Art-Reach project involved a special performance of a cabaret show in Philadelphia at a physically accessible site with live captioning, American Sign Language interpretation, and verbal descriptions for those with visual impairments.
Art-Reach, however, "is not just creating moments of observation," Orr says. "A butt in a seat in a theater is not nearly as exciting as having your seat be onstage and being able to be immersed in learning how to plan an opera, learning how to perform an opera, learning how to do a dance, learning how to choreograph a dance."
One recent collaboration brought students from the Overbrook School for the Blind to The School of Pennsylvania Ballet so both groups could prepare for a tap performance.
"It was just unbelievable to watch it all sort of come together in a way that was really thoughtful and just so personal," Orr says. "It brought the house down."
Melissa Chasse, school administrator for the Pennsylvania Ballet, choreographed the tap performance and worked with the participants. Although both sets of students were new to tap and it was a daunting prospect to train them in just 10 lessons, she was struck by the outcome.
"I expected the students to experience a certain level of stress or nervousness throughout the lessons, but they really all approached this with a positive and enthusiastic attitude," she says in an email interview. "Their perspective was contagious and reminded me how wonderful it can feel to take on a new challenge and celebrate your achievements."
After seeing Art-Reach in action, Ms. Chasse cannot say enough about the efforts of Orr and his team.
"I love that in addition to providing equal access to the arts by way of observation, they also want to create opportunities for disability and low-income communities to have a participatory experience," she says.
Stephanie Algarin, who has limited sight, was a participant in the performance. Although she describes herself as shy, the 20-year-old says the experience was exciting and enjoyable. "I would like to do this again," she says. "I really like to dance."
Affordable visits to museums
Orr also discusses Art-Reach's dedication to those who are financially barred from arts and culture opportunities.
"We serve a huge number of people who live below the poverty line in some of the most strenuous economic conditions that we can imagine," he says, which make the roughly $70 it could cost a family of four to visit a popular museum impossible.
The nonprofit launched and manages a special ACCESS Admission program, which is tied to the state program that issues ACCESS cards to those eligible for various public assistance programs. Cardholders can gain entrance to 36 sites throughout the city and region at the discounted rate of $2 per person for as many as four guests, regardless of relation or residence.
The admission program began in fiscal year 2015, when the discount was used 27,000 times. Usage rose to 74,000 the next year and 133,000 the year following, when some $266,000 in revenue was brought into institutions. Now some live performance venues are considering joining the program.
"When we say we believe that access to the arts is a human right, we absolutely believe it," Orr says.
Before Orr came to Art-Reach, its small staff was spread thin running many programs. In his first six months at the helm, he cut the number of programs by two-thirds, with the goal of focusing on a few things and doing them well. His reorganization has delivered results: Leading up to mid-2015, the nonprofit had collectively served some 280,000 throughout its history, but in the past 2-1/2 years alone, it has touched 302,000.
Art-Reach manages an annual budget of just over $1 million, nearly half of which consists of in-kind donations. Funding is mostly derived from foundation support and individual contributions.
Orr's efforts are driven in part by personal experience. "The arts ... have been transformative for me, to the point that the idea that people don't have access, or that the world has been telling them no for decades, is just unacceptable," he says.
He says that seeing the difference he and his team make continues to motivate them.
"You walk into one Art-Reach event and watch the transformation happen for the people who come to the event as they experience the arts, and you are hooked," he says. "Every single event just drives you a little more."
• For more, visit art-reach.org.
Three other groups involved in these issues
UniversalGiving helps people give to and volunteer for top-performing charitable organizations around the world. All the projects are vetted by UniversalGiving; 100 percent of each donation goes directly to the listed cause. Below are links to three groups that are involved with the arts or supporting people with disabilities:
• Shirley Ann Sullivan Educational Foundation improves the quality of life for children by providing education and lobbying for their protection from exploitation. Take action: Contribute to funds for arts education.
• SBP, which got its start in St. Bernard Parish in Louisiana after hurricane Katrina, works to reduce the time between disaster and recovery. Take action: Make a donation to aid disabled people and others in New Jersey's Monmouth and Ocean Counties, where SBP has superstorm Sandy operations.
• Supporting Kids in Peru helps disadvantaged children realize their right to an education. Take action: Be a creative arts leader for this program.