Mariano Rivera's latest 'save' is a church
(Read article summary)
Retired New York Yankees relief pitcher Mariano Rivera was instrumental in restoring a 107-year-old church for Refugio de Esperanza, or Refuge of Hope, the Pentecostal Christian congregation led by his wife, Clara.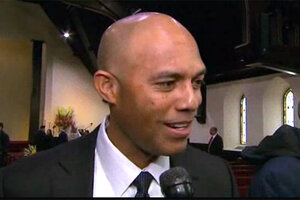 Now that he's retired, Mariano Rivera says he misses spring training and his Yankees teammates, but baseball doesn't compare to doing God's work.
"The baseball field is one thing. We won championships," Rivera said Thursday after the dedication of a once-crumbling church his foundation restored. "But this is totally on another level. This is to hopefully bring families closer to the Lord. ... Changing people's lives, that's what counts."
The legendary reliever's foundation poured about $3 million into the 107-year-old church for Refugio de Esperanza, or Refuge of Hope, the Pentecostal Christian congregation led by his wife, Clara.
"It has been a privilege to fulfill a dream that God put in our hearts," Rivera told the crowd of about 350 during an exuberant, bilingual, music-and-Scripture-filled celebration. Sunlight, filtered through new stained glass windows, provided a golden glow beneath the church's old but restored ceiling timbers.
Asked if the rescue of the church in downtown New Rochelle, about 6 miles north of Yankee Stadium, should be added to his record 652 saves, Rivera said, "You could say that. This was the big one."
Three years ago, the building was on the verge of collapse and being used to store evidence by the police department next door. That was when Rivera, whose home had been serving as the diverse congregation's meeting place, was looking for a bigger space.
The former North Avenue Presbyterian Church had been vacant since the 1970s and was badly in need of repair.
"It was in bad shape but I saw a beauty beyond that," Rivera said. "God gave us the inspiration and the desire to really renovate it and make it the thing it is. It wasn't me. It was the Lord."
Former City Councilman Joe Fosina, a longtime friend of Rivera who showed him the gray stone church, looked around the new space Thursday and said, "To come so far so quickly, it's amazing."
The city had taken over the building, and after paying to have the collapsing bell tower taken down, agreed to sell the building to Rivera for $1 — and his promise to rehabilitate it. One opponent at the time, City Councilman Louis Trangucci, said Wednesday he still feels the city should have tried to get more for the property. But he said the project has only enhanced the area "and I support what Mariano has done with the church."
Brandon Steiner, a Rivera business partner whose sports memorabilia firm is headquartered in New Rochelle, said he'd never seen Rivera so focused on a project.
"He was like the general contractor," Steiner joked. "He was in there directing painters."
Clara Rivera, speaking Spanish with a translator next to her, told the congregation, "We have prayed, we have worked and patiently we have waited for the exact moment when God has given the order to be here in this building. On this day, it now becomes a reality."
Then she thanked her husband "for everything you have done for this to be possible."
The wildly popular former Yankee, 44, had been quiet about the project. Most residents walking by the church earlier this week did not even know he was involved in the restoration.
Across the street at Kenny's Barbershop, Carlos Sanchez has been watching the renovation every day.
"It looks a lot better," the barber said. He even met Rivera at the site several times.
"He's a cool guy," Sanchez said. "And look what he's doing, a new church in the neighborhood."
Copyright 2014 The Associated Press. All rights reserved. This material may not be published, broadcast, rewritten or redistributed.