Why Iran's missile tests may not play well in Tehran
The show of force ahead of nuclear talks is a well-tested strategy. But only 1 in 10 Iranians support nuclear weapons, and many question the government's legitimacy after June elections.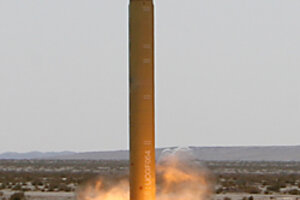 Ali Shayegan/ Fars News/ Reuters
Amid increasing international support for tougher sanctions on Iran, the Islamic republic launched its longest-range missiles in a show of force ahead of nuclear talks scheduled for Oct. 1 in Geneva.
Iranian state media heralded the successful launch of a new generation of Shahab-3 and Sajjil ballistic missiles, which are capable of reaching Israel, US bases in the Middle East, and southeastern Europe. The launches added to media buzz generated by Tehran's revelation last week that it had been covertly constructing a second uranium enrichment facility. But there are signs that playing the traditional nuclear trump card to rally nationalist fervor may backfire for the regime, whose legitimacy many Iranians have challenged in the wake of June elections.
"Whenever foreign pressure on Iran rises, the hard-liners respond by testing missiles – a threat specifically leveled at Israel," says a political analyst in Tehran with reformist sympathies who asked to remain anonymous for fear of government reprisal.
But based on what callers on BBC Persian programs, bloggers, and people on the street are saying, he believes that approach has become "threadbare" in the eyes of the Iranian public. "The legitimacy of the entire regime is under question for a large swath of Iranians. Many now consider the nuclear program a core propaganda element of Ahmadinejad's administration, trumpeted as an inviolable national interest to divert attention from the political and economic failures of the Iranian government."
A survey released Sept. 25 confirms the analyst's assessment that many Iranians do not support the pursuit of nuclear weapons, although that was also true prior to the election.
The poll, conducted between Aug. 27 and Sept. 10 by the Program on International Policy Attitudes (PIPA) at the University of Maryland found that two-thirds of Iranians favored precluding the development of nuclear weapons in exchange for the lifting of sanctions against Iran. Half of of those polled were willing to halt enrichment activities altogether.
While Iranian views of their government and its foreign policy may have changed, their attitudes toward nuclear weapons have remained largely stable over the past 18 months. A separate PIPA poll from early 2008 and republished just ahead of the June elections found that more than 70 percent of Iranians across the political spectrum – conservatives included – opposed their development.
'We will respond in a crushing manner'
The missile program is run under the auspices of the Iranian Revolutionary Guard Corps, a parallel army established in 1979 to preserve the Islamic revolution's ideals. Under President Ahmadinejad, the Corps has gained substantial influence in security and business affairs. (Read a full Monitor briefing on the Revolutionary Guard here.)
After Monday's missile launch, the commander of the Revolutionary Guard Air Force issued an implicit threat to Israel and other players in the region with the missiles' 1,200-mile range.
"All targets within the region will be within range of these missiles," said Gen. Hossein Salami, the commander. Referring to the defense capabilities of the Guard, he added, "We will respond to any military action in a crushing manner."
'Teeth and claws' approach likely to backfire
The show of force comes three days ahead of key talks with major world powers over Iran's disputed nuclear program, slated to open Thursday in Geneva, and less than a week after Tehran revealed it has been constructing a covert second uranium enrichment facility.
At the G-20 summit in Pittsburgh, Western powers warned Iran it must open up the new site – located on a military base near the city of Qom, roughly 100 miles southwest of the capital – to international inspectors or face harsher sanctions.
Kayhan, a hard-liner daily whose editor-in-chief is appointed by Iran's Supreme Leader, led its Sunday paper with the headline, "Nuclear plant in Qom [is] a trump card for the October talks."
But such a display of "teeth and claws" is likely to backfire, says the Tehran analyst. "It only serves to strengthen the resolve of the world powers to press for heavier sanctions. Many Iranians feel that the government is not acting to preserve national interests."