Iraq government: Looking 'very seriously' at security breaches that led to Oct. 25 bombing
Iraq's Foreign Minister Hoshyar al-Zebari said Thursday that security breaches explain how a second, similar attack could take place despite the many precautionary measures implemented after devastating Aug. 19 bombings.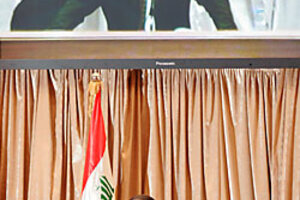 Mohammed Ameen/Reuters
The devastating bombings that struck at the heart of Iraqi government institutions twice in the past three months were conducted by the same organization and for the same reasons, Foreign Minister Hoshyar al-Zebari said Thursday, blaming the second attack partly on security breaches.
"It was the same brains, the same strategic thinking, the same organization that carried out the Aug. 19 attacks and the Oct. 25 attacks," Mr. Zebari told reporters at a foreign ministry still being repaired after a suicide truck bomb in August killed more than 40 ministry employees and wounded 500. "They wanted to achieve the same goal, to paralyze the government to undermine confidence in the government that it is unable to protect its own institutions or buildings."
The August bombing was the start of attacks on government institutions which marked a shift in strategy by insurgents from security targets to civilian ministries. The bombing of the justice ministry in October has paralyzed the work of the country's fledgling legal system.
Zebari heads a commission, which also includes the defense and interior ministers, investigating the Baghdad attacks. In the Aug. 19 suicide truck bombings targeting the foreign and finance ministries, more than 100 were killed and up to 800 wounded. On Oct. 25, another coordinated suicide attack outside the justice ministry and two other government buildings killed 155 people and wounded more than 500.
Zebari blames security breaches
The fact that a second attack of a similar magnitude took place after the August bombings reflects lax security practices – in particular at checkpoints meant to scan or inspect vehicles for explosives – that were unacceptable, the foreign minister said.
"In fact there have been security breaches – otherwise the same type of attacks and planning would not happen again after two months and all the precautionary measures we took after the 19th of August," Zebari said. "The government is looking at it very, very seriously. There is no excuse actually after Aug. 19 to see another attack of that type."
The Islamic State of Iraq, an umbrella group linked to Al Qaeda in Iraq, claimed responsibility for both bombings. Zebari said the investigation showed they did not plan the attack on their own.
"We have not accused any state or any government as such," said Zebari. "We are accusing Iraqi strategists, Iraqi Baathists who have strong links with Al Qaeda, with some networks." He said the planners had done extensive surveillance and had a detailed knowledge of the Iraqi security system and of the ministries.
Five new ambassadors to Iraq
Despite continued security fears in Iraq, Zebari said that five new ambassadors had presented their credentials on Wednesday, including the first Egyptian ambassador to Iraq since that country's previous envoy was kidnapped and killed by Al Qaeda in 2005.
Zebari said the commission had briefed a senior UN envoy, Oscar Fernandez-Taranco, sent by UN Secretary General Ban Ki-Moon, and he would report back to the UN chief, who would consider what further actions needed to be taken.
Zebari also said several countries in the region were trying to interfere politically in Iraq ahead of parliamentary elections in January.
"Whenever we get evidence of any country trying to interfere we remind them of their duties, and this has happened," he said.
Iraqi political sources said Zebari had summoned the Turkish ambassador to Iraq to formally complain after he became involved in negotiations over seats in the next election for Iraqi Turkmen. The election law was stalled for weeks in parliament as Kurds, Arabs, and Turkmen argued over voting in areas disputed by all the parties.