Australia sends police to Israel over Dubai assassination
Australian police arrived in Israel on Wednesday to investigate identity theft of dual nationals in connection with the Dubai assassination widely blamed on Israel's Mossad intelligence agency. The use of forged passports has provoked a stern response, but is unlikely to jeopardize relations.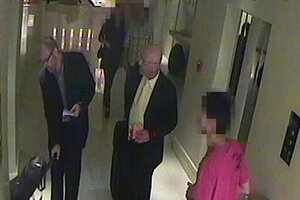 Dubai Police/Reuters
An Australian police team arrived in Israel on Wednesday to look into the misuse of three dual citizens' identities in connection with the January assassination of a Hamas official in Dubai.
The investigation into the Dubai assassination comes as part of Australia's stern response to the fraudulent use of its passports by suspected agents of Israel's Mossad intelligence agency in the killing of Mahmoud al-Mabhouh. Last week Australian leaders condemned the forgeries in unusually robust language.
But while ties with Israel have been strained, the traditionally close relationship between the two countries is likely to survive intact, foreign policy experts believe.
When it comes to Israel, Canberra takes its lead from its major ally, the United States. Moreover, analysts say, the government would not risk upsetting Australia's relatively small but influential Jewish community – particularly in an election year.
"I suspect the relationship will get chillier for a while, but it will be a low-level chill, and hardly anyone will notice," says Matthew Gray, a Middle East expert at the Australian National University (ANU).
"There might be one or two visits postponed, and the ambassador might find it bit more difficult to get access to the minister or officials. But while this is very serious, it's not grave enough to permanently or badly damage the relationship."
Some observers have linked Australia's abstention from a United Nations vote last week, calling on Israel and the Palestinians to investigate human rights violations during the Gaza war, to its displeasure over the assassination. Israel had sought a "no" vote on the resolution, and Australia typically votes with Israel. Australian Prime Minister Kevin Rudd denied any connection with the Dubai assassination, although foreign policy analysts are not convinced.
Investigators sent to Israel
The team of Australian Federal Police officers in Israel will meet with three Israeli-Australian nationals whose identities were used in the forged passports with which the assassins entered the United Arab Emirates. Australia has said it expects full cooperation from Israeli authorities.
The rest of the 27 suspects, also believed by the Dubai police to have links with Mossad, traveled on fake passports from Britain, Ireland, France, and Germany.
While Britain has also sent police to Israel to meet with dual nationals whose names matched those appearing in the fake British passports, Australia's response has been among the most outspoken of the countries affected. Foreign Minister Stephen Smith summoned the Israeli ambassador to warn him that if Israel was involved in the passport fraud, Australia "would not regard that as the act of a friend."
Mr. Rudd said the matter was "of the deepest concern" and vowed that authorities would get to the bottom of it. Israel has said there is no proof that Mossad carried out the murder of Mr. Mabhouh in his hotel room and has refused to confirm or deny involvement.
Temporary tantrum?
Mr. Rudd, who has to call an election by the end of this year, will be vying for Jewish votes with the opposition Liberal-National Party coalition. Members of the Jewish community make significant donations to the major parties, including Rudd's Australian Labor Party.
"Rudd will throw a tantrum and then move on. It won't seriously impair ties," says Michael McKinley, a senior lecturer in international relations at the ANU.
"If you look at the countries [involved in the passport scam], they're all friends of Israel," he adds. "Israel knows its friends will get annoyed but will get over it. It has been cynical in a very calculated way."
-----