Iraq film directors look to build 'Baghdadwood'
Iraq film production remains nascent, but two directors are opening the country's first film production center in a bid to lure investors and bring native filmmakers back home.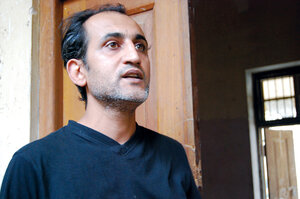 Jane Arraf
The windows that would catch a breeze off the Tigris River are cracked, the brick floors covered in debris. But as Oday Rasheed wrests off a padlock and looks around the historic house in the commercial heart of Baghdad, he sees the future of the country's film industry.
Mr. Rasheed points to rusting cans of film stacked in teetering piles and moldering in the heat. They are Iraq's film archives – brought for safekeeping by the Ministry of Culture before the 2003 war. "This is the remains of our heritage – the whole of Iraq's film industry," says Rasheed. He plans to gradually send the celluloid negatives of the hundred or so films dating to 1946 to France to be restored.
Iraqi cinema had its heyday in the 1940s, mostly producing romantic musicals. After the revolution and the rise of the Baath Party, movies were used for political purposes. Now, postwar, filmmakers have freedom – but none of the infrastructure. That's where Rasheed's and fellow director Mohamed al-Daradji's production center comes in.
"Iraq after the war is now like Italy and Germany after the war," says Rasheed, referring to the artistic challenges in a country emerging from war and dictatorship. "There will be bad films and ... good films. The main thing is to do them…. There would be no Federico Fellini without Italian cinema – he is there because there was an Italian film industry."
The two men are key players in the revival. Rasheed's "Underexposure" was the first postwar feature film – using expired film bought from looters after the US invasion and financed by selling his possessions. It won Best Film at the Singapore International Film Festival in 2005. His film "Qarantina," the story of a professional assassin who shares a house with a poor family, will be released later this year. Duradji's "Son of Babylon," now in distribution, tells of an Iraqi woman and her grandson searching for her son. His film "Ahlam" (Dreams) portrays wartime horrors through psychiatric patients' eyes.
Little help for Iraq's first film center
The house they hope will be their production center is the former home of the first finance minister after the collapse of the Ottoman Empire. On the second floor, a framed photograph of King Ghazi, Iraq's second-to-last king, killed in 1939, hangs on the dusty wall. Downstairs is a pile of once-elegant furniture. The house features one of Iraq's first elevators.
Rasheed says once they raise money, they plan to start renovations. Young people in film and TV offer to volunteer. "They said, 'We'll bring our work clothes and renovate it – you don't have to hire workers,' " he says.
The Ministry of Culture has provided the building for three years rent-free if the filmmakers renovate it, but otherwise offers little aid. "We were touring the whole world carrying the Iraqi flag, saying this is an Iraqi cultural project, without getting any support from the government," Rasheed says. "It's not just … an ego thing but also a national thing."
Furat al-Jamil, a producer and Rasheed's wife, says films can portray real life in a way news stories can't. "A movie will focus on very local stories and portray … how [people] actually live," she says.
The two hope the center can attract foreign investment from studios that want to film stories about Iraq in Iraq – and encourage Iraqi filmmakers abroad to return. In a country without a single theater, that's a tall order.
"You need to build new [film theaters] or renovate old ones … but the main element is us, the filmmakers – the younger generation who are not going to be quiet anymore," Rasheed says. "I think this place will pull us all together."
Related: