Israeli settlement building surges as US pushes for a new freeze
Israeli settlement monitors estimate that construction has begun on 500 new units – nearly one-quarter of the number for all of 2008 – as settlers try to make up for lost time.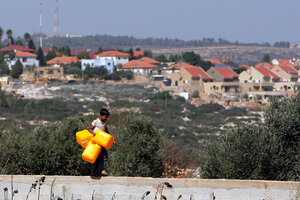 Mohammed Ballas/AP Photo
In the two and a half weeks since Israel's settlement freeze expired, there's been a surge in construction on new West Bank homes, dimming prospect the Palestinians will agree to resume peace talks.
"The resumption at this scale makes it more complicated to make arrangement that will allow a resumption of talks," says Palestinian government spokesman Ghassan Khatib. "They are putting more sticks in the wheels.''
In Beitar Illit, one of the biggest and fastest growing settlements, construction crews have started working on 100 new units previously stifled by the moratorium. As iron rods sprout up amid newly poured cement foundations, bulldozers are carving an entry road to an empty hill slated as a new housing development.
Monitors who toured dozens of building sites throughout the West Bank over the past week estimate work has begun on about 500 housing units – one-fourth the number of housing starts for all of 2008.
"A few hundred in two weeks is a lot," says Dror Etkes, a housing monitor who opposes expanded building, as he navigates from memory the construction sites at the perimeter of settlements. "Obviously [the settlers] felt that they had to start fast to have facts on the ground again in case there will be a new freeze so they'll have enough construction. This is the game."
The pace of the new building significantly dilutes the impact of a US proposal to defuse tensions over settlement expansion and get peace talks moving again. The US and Israel have discussed a two- to three-month extension of the moratorium on housing starts that expired on Sept. 26. But a new freeze will have no significance for the Palestinians if the hundreds of new units begun in the last two weeks aren't stopped as well.
"This 60-day extension is basically nonsense," says Alon Pinkas, a former Israeli Consul General to New York, who sees little prospect of Israeli Prime Minister Benjamin Netanyahu and Palestinian Authority President Mahmoud Abbas reaching common ground on a peace deal. "Logic dictates if you are going to delineate a border, you stop building now, or at an early stage in the negotiations, you agree on a border'' – and thus agree on where it is permissible to build.
Ideological settlements see surge in construction
The freeze is also having an unintended consequence: building in the West Bank is slowly shifting from large settlements near Israel's border to smaller far-flung settlements that Israel is expected to evacuate if a peace deal is reached.
In the rush to build both before and after the 10-month moratorium, settler construction has surged on medium- and small-sized projects overseen by ideologically driven builders. Those require less bureaucracy than large-scale building.
Palestinians argue that construction erodes the contours of their future state in the West Bank, and that Israel must cease building as a goodwill sign before talks begin in earnest.
On Friday, Palestinians denounced the Israeli publication of building tenders for 238 new homes in East Jerusalem, where they envision a capital of their future state.
REPORT: How Israeli-Palestinian battle for Jerusalem plays out in one neighborhood
Though the city wasn't included in the freeze, Israeli officials had refrained from commissioning new building there since announcing 1,600 new units in the middle of a March visit by Vice President Joe Biden.
Palestinians see a 'lack of seriousness'
In the weeks before the end of the freeze, Palestinian officials said they would judge Israel on action on the ground rather than the declarations of its leaders, leaving open the possibility that they would rejoin if building activity was minor.
"We noticed that [settlement building] is getting significantly faster after the Israelis refused to renew the freeze," says Mr. Khatib, the Palestinian spokesman. "That's the main indicator to the Palestinian public and to the Palestinian politicians about the lack of seriousness.''
Prime Minister Netanyahu, who faces pressure from his pro-settler coalition partners, argues he has already made an unprecedented concession to restart talks with the freeze. On Monday, he said he would consider a new temporary moratorium in return for Palestinian recognition of Israel's Jewish character.
Settler spokesman: A dash to make up for 10-month freeze
Despite defiant foundation ceremonies marking the end of the freeze, the settler leaders have sought to keep a low profile on new building at the behest of Netanyahu.
Naftali Bennett, the director general of the umbrella settler leadership, the Yesha Council, initially predicted a "slow ramp-up." When asked about the pace of building during the first two weeks of the freeze, he declined to comment.
Mr. Bennett complains that the pool of projects is drying up because the government hasn't approved new tenders for large-scale building in West Bank settlements.
Hagit Ofran, the building monitor for the leftist group Peace Now, confirmed there have been no building tenders in the West Bank in over a year. The absence of projects in the big cities will also encourage more building in isolated settlements.
Hagit Ofran: Why a young Israeli woman spies on Israeli settlements in West Bank
David Haivri, a settler spokesman affiliated with the regional council representing Israeli communities in the northern West Bank, confirmed there is a dash to make up for a 10-month delay in housing starts created by the freeze.
"I expect that in the few months left till the end of the year 2010, we will compensate for our downtime and begin building at least as many homes as we did in 2008," he said in an e-mail.
Scoping out new settlement building
Etkes, formerly of the left-wing groups Peace Now and Yesh Din, became the first person outside the Israeli government to systematically track settlement growth. In the role, he has spent most of the last decade traversing the West Bank by car and by plane.
Officials from the US consulate in Jerusalem regularly seek him out on settlement activity, but settlers like Haivri see him as bent on smearing their image. Over the course of the days since the end of freeze, Etkes has taken to the roads again to assess the pace of renewed building.
Standing on a hilltop overlooking a construction site at the western edge of Beitar Illit, Etkes explains the different between post- and pre-expiration construction. Because the temporary freeze covered just housing starts – not projects already under way – actual Israeli building in the West Bank during the moratorium slowed by only 16 percent.
There are homes with nearly completed frames built during the freeze because they were started prior to the moratorium. Across a planned road, Etkes points to plots with fresh foundation work.
"This kind of construction is not older than a week,'' he says, before continuing on to tour nearly a dozen other settlement building sites. "The cement base, the iron rods and wood planks mean the construction is at a very beginning stage.''
Salah Issa, a Palestinian construction foreman nearby, confirms Etkes' rough estimate of the number of new units going up since Sept. 26. Then he points out an access road leading to an empty ridge where a new development is planned. "Do you think they listen when Obama says stop? They don't listen to anyone."