Local war in southern Yemen pits government against militants
The Yemeni government launched air strikes against suspected Al Qaeda militants in southern Yemen's Abyan province this weekend.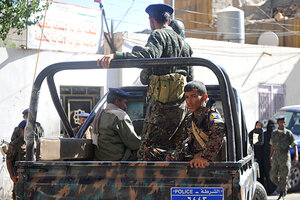 AP
A war has broken out in volatile southern Yemen between the government and local militants, further threatening the Arab world's poorest country.
This weekend, the government launched air strikes in the Abyan city of Moudia, which followed last month's aerial raids on a suspected Al Qaeda stronghold in neighboring Shabwa province. And since the fighting erupted in August, there have been nearly weekly skirmishes between soldiers and militants the government says belong to Al Qaeda in the Arabian Peninsula (AQAP).
"The battle in Abyan and Shabwa is growing; this, after all, is the home region of AQAP's commander, Nasir al-Wihayshi," says Gregory Johnsen, a Yemen specialist at Princeton University, in an email. "AQAP is trying to convince – through both intimidation and persuasion – members of Yemen's security services and military to come over to its side. For its part, the Yemeni government is striking back both through military strikes and by attempting to turn the tribes against al-Qaeda."
Since the unification of north and south Yemen in 1990, the south has been marginalized both politically and economically. Despite proportionate representation in the central government, southern Yemenis say their interests are not well represented. And despite being home to the majority of Yemen's oil reserves, the south remains desperately poor. (Editor's note: The original version was unclear about the nature of southern Yemeni representation in the central government.)
Analysts worry that upset southern tribal factions have turned their backs on Yemen's President Ali Abdullah Saleh and are now harboring AQAP militants.
Assassination, then assault
The weekend clashes between the government and suspected AQAP militants in Abyan lasted until early Monday morning, according to tribal sources in the region.
"Confrontations between security forces and Al Qaeda resulted in the deaths of more than six militants during the past few days," Mohamed Khader, deputy director of security for Abyan, told local press on Monday. "[Security forces] are conducting operation to hunt down 20 terrorists who fled to mountains in the region."
The assault came just days after militants assassinated Moudia's security director, Osama Mohamed Salem, and attempted to kill the province's governor, Ahmed Al Misri.
Additionally, AQAP – a group that shares Osama bin Laden's worldview but is largely separate from his organization – released an online recording last week announcing the formation of an Aden-Abyan army.
"We have become closer to placing the first building blocks for the Aden Abyan army, and it is a line of defense for the nation and its religion," said AQAP leading figure Qassim Al Raymi in the audio recording.
Strategic landscape
Fouad Selahy, a political sociology professor at Sanaa University, says AQAP leaders chose Abyan for its strategic location. It sits next to large desert areas that facilitate the passage of militants from Saudi Arabia and it's close to the sea, providing another gateway for jihadis.
However, Prof. Selahy added that he doesn't believe every attack against the Yemeni military in southern Yemen is necessarily carried out by Al Qaeda, even though the Yemeni government may say otherwise.
"When the government attacks any governorate, the young people will retaliate and use weapons against the government," he says. "The planes are striking their regions, the planes are destroying their homes and farms. These people are not necessarily Al Qaeda."
One civilian was killed in the weekend attacks, while two women were injured, according to the local Yemeni press.
"Yesterday the planes hit the citizens, even women and children," says Abyan-resident Nasser Al Fadhli, brother of southern separatist leader Tariq Al Fadhli, in a phone interview. "There was nothing called Al Qaeda present in the place of the attacks."
The government calls everyone who opposes it "Al Qaeda" so they are able to attack the southerners, says Mr. Fadhli, indicative of the marginalization southerners feel regardless of their affiliation with a jihadist organization.
In addition to having an Al Qaeda presence, Abyan is a stronghold of Yemen's southern separatist movement. The separatists, who call for the recreation of an independent southern state, have used violence against security forces in the past. While they share a common enemy – the Yemeni government – with AQAP militants, there is no proof that separatist leaders work directly with AQAP.