Top 5 attacks linked to Yemeni cleric Anwar al-Awlaki
The Yemen bomb plot has brought fresh scrutiny to Al Qaeda in the Arabian Peninsula, of which Islamic cleric Anwar al-Awlaki is thought to be a key leader. Mr. Awlaki has not been officially linked to this latest attack, although Yemen – under international pressure to rein in AQAP – put him on trial in absentia today for plotting to kill foreigners.

Mr. Awlaki, a Yemeni-American fluent in English who has been on the radar of US intelligence and military for several years, has a track record of promoting attacks against US targets. Here are some of the incidents to which he has been linked: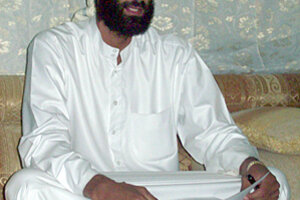 Muhammad ud-Deen/AP/File
1.

Call for assassination of a US cartoonist

In July 2010, Awlaki called for the assassination of Seattle Weekly cartoonist Molly Norris after she encouraged the idea of "Everyone Draw Mohammed Day." Ms. Norris, per a recommendation from the FBI, has since changed her name and moved, essentially eliminating her prior identity, in order to thwart any assassination attempts.