Five controversial Jewish neighborhoods in East Jerusalem
In 2000, then-President Bill Clinton suggested that one of the thorniest issues of the Israeli-Palestinian conflict – the division of Jerusalem to create two capitals for two states – should be decided along demographic lines. In other words, Jewish neighborhoods would be incorporated into Israel and Arab neighborhoods would become part of the future Palestinian state.
The past decade has seen a significant expansion of Jewish areas in the Arab neighborhoods closest to the Old City, which could affect how the city is divided – or prevent it from being divided at all. This has raised the ire of Palestinians, the United Nations, and others, because the expansion has taken place in a territory that Israel occupied and then unilaterally annexed – and thus the transfer of civilian populations is considered illegal under international law. Here are five of the most controversial developments: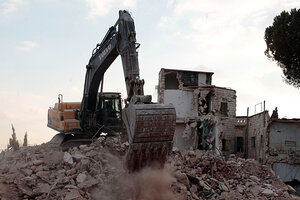 Baz Ratner/Reuters
Sheikh Jarrah

Sheikh Jarrah has become a flashpoint in the Israeli-Palestinian battle for Jerusalem because of Jewish construction projects, recent home evictions and demolitions, and the resultant protests by Palestinians and Israeli and foreign activists. Sheikh Jarrah is north of the Old City, and abuts the road that until 1967 served as a divider between East and West Jerusalem.

Once an affluent Arab neighborhood, it is home to many Western consulates, the International Red Cross, and the UN refugee agency. Right under the nose of the international community, a bitter fight is playing out between the predominantly Palestinian population seeking a capital in East Jerusalem and Jews seeking to gain a greater foothold around the Old City and its holy places.

In the latest conflagration in Sheikh Jarrah, a portion of the Shepherd Hotel owned by American Jewish millionaire Irving Moscowitz was demolished Jan. 9 to make way for housing units for 20 new Jewish homes.

There are several other controversial activities in Sheikh Jarrah, which is also referred to by the Hebrew names for two areas of the neighborhood: Nahalat Shimon and Shimon HaTzadik. Among them are Jewish plans for 200 new housing units where dozens of Palestinian homes now stand; a planned conference center, known as the Glassman Campus; and the ongoing court battle over the eviction of two Palestinian families, the Hanouns and the Ghawis, who were settled in Sheikh Jarrah by the UN refugee agency before Israel captured the area in the 1967 war.