ElBaradei to US: Take Egypt's Mubarak off life support
Egyptian opposition figure Mohamed ElBaradei urged President Obama on Sunday not to be the 'last one' to withdraw support from Egyptian President Hosni Mubarak.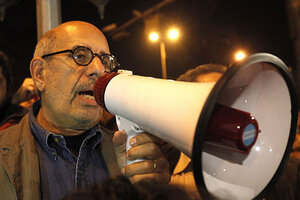 Asmaa Waguih/Reuters
Mohamed ElBaradei, the Egyptian Nobel Prize winner who says he has a mandate from Egypt's opposition to negotiate President Hosni Mubarak's withdrawal from power and the creation of a transitional government, urged the US to turn its back on long-time ally Mr. Mubarak in a series of television interviews earlier today.
Dr. ElBaradei, who joined thousands of protesters in Cairo's Tahrir Square in the early evening, said the time has come for the US to stand with Egypt's protesters.
"The American government cannot ask the Egyptian people to believe that a dictator who has been in power for 30 years would be the one to implement democracy. This is a farce," he said on CBS's Face the Nation. "The first thing which will calm the situation is for Mubarak to leave, and leave with some dignity. Otherwise, I fear that things will get bloody. And [the US] have to stop the life support to the dictator and root for the people."
Earlier today, Secretary of State Hillary Clinton had called on the Mubarak government to embrace political reform and respect the Egyptian people's calls for democracy. In the mid-afternoon in the US, Reuters reported that President Obama called other world leaders to discuss supporting an "orderly transition" in Egypt.
To the protesters gathered in Tahrir (Liberation) Square, the notion that Mubarak could play any role in political reform or a transition was dismissed as offensive.
"I support ElBaradei negotiating a transitional government. He's a good figure for that purpose," says Ahmed Mohammed, a pharmacist among the protesters at Tahrir. "But then we need to amend the Constitution and have free elections, in which anyone can run... The idea is not who will become the next president. The idea is that Mubarak has to go first."
The simple sentiment shared by protesters at Tahrir was that they won't go home until Mubarak is removed from power. "This is all about the Egyptian people. We want to get rid of Mubarak," said a man who only wanted to be identified as Hani. "After that you can ask me about a new president."
ElBaradei emphasized that demand, implying that, as a practical matter, Mubarak's chance of hanging on to power is gone. "It is better for President Obama not to appear that he is the last one to say to President Mubarak, 'It's time for you to go,' " he told CNN.
The US provided $1.3 billion in military aid to Egypt last year, and the F-16s that buzzed the crowds in central Cairo and some of the tanks on the streets today are US-supplied.
In the past 30 years, the US has supplied over $28 billion in aid to Egypt. That military aid – largely a reward for Egypt's signing of a peace agreement with Israel at Camp David in 1979 – is now being pointed to by protesters as evidence that the US stands in the way of their aspirations.