Clinton, rebuffed in Egypt, faces tough task on Arab upheaval
In Cairo today, Hillary Clinton announced $2 billion in aid to help the country rebound. But many see it as too little too late – a lesson some say the US should take to heart in Bahrain and Yemen.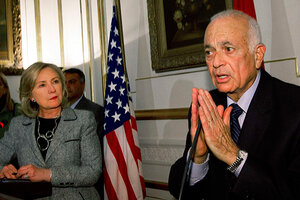 Paul J. Richards/Reuters
US Secretary of State Hillary Rodham Clinton, in her first visit to Cairo since the fall of former president and US ally Hosni Mubarak, today urged the new Egyptian government to continue the transition to democracy – offering US support for the tough road ahead.
"To the people of Egypt, let me say: this moment of history belongs to you," said Secretary Clinton after a meeting with Egypt's new foreign minister, Nabil El Arabi. "This is your achievement and you broke barriers and overcame obstacles to pursue the dream of democracy." She also announced a $2 billion emergency economic assistance package to help Egypt recover.
But while the US is now encouraging democracy in Egypt, it was slow to do so, drawing the ire of revolutionaries. Now, the Obama administration is again hesitating to support protesters in Bahrain and Yemen, where regimes are currently fighting Egypt-inspired democracy protests against US allies. Clinton's visit underlines Washington's difficult task of implementing a cohesive strategy in a region undergoing historic upheaval.
"US policy is going backwards. If Arabs thought that US policy was bad during Egypt's revolution, it's worse now," says Shadi Hamid, director of research at Brookings Doha Center in Qatar. "Arabs are not going to forget who was with them and who was against them in their struggle for democracy … If the US is remembered as being on the wrong side of history here, that is going to further damage its influence and credibility in the region."
Youth coalition refuses to meet with Clinton
A coalition of six youth groups that have become vocal movers in Egypt's revolutionary movement announced on their Facebook page that they had refused an invitation to meet with Clinton "based on her negative position from the beginning of the revolution and the position of the US administration in the Middle East."
During the first days of the uprising, as they fought off attacks by police under a government-imposed blackout, many protesters expressed outrage at Clinton's statement on Jan. 25 that the Egyptian government was "looking for ways to respond to the legitimate needs and interests of the Egyptian people." The tear gas canisters marked "Made in the USA" only furthered their perception that the US was on the side of the dictator, not the people.
The US was criticized for its response to the revolution, with the White House, State Department, and Pentagon not always in sync. By the end of the uprising, the administration had adopted more cohesive rhetoric supportive of the protesters demands for democratic change. But for many Egyptians, it was too late.
Emad Gad, an analyst at the state-funded Al Ahram Center for Political and Strategic Studies, calls the US response to the revolution a "black spot" on the record of the Obama administration. "Perhaps this will be the last chance for Hillary Clinton to change the stereotype of the American position toward the revolution," he says.
Will US apply lessons in Bahrain, Yemen?
The US risks the same outcome, or worse, in places like Bahrain and Yemen, says Dr. Hamid. Both nations have cracked down on protesters demanding change.
The king of Bahrain declared a state of emergency Tuesday, a day after Saudi forces arrived to help quell a month-long protests movement calling for democratic reform. Three people were reportedly killed Tuesday as violent clashes between police and protesters continued, after seven people were killed in February when Bahrain's military fired on protesters. On Tuesday, Clinton called for restraint in Bahrain, saying all sides must take steps toward political resolution of the crisis.
Bahrain, home to the US Navy's Fifth Fleet, is a majority Shiite country ruled by a Sunni family, and some fear that Iran – as well as neighboring Saudi Arabia – will try to take advantage of the upheaval to boost its own interests.
In Yemen, the recipient of $250 million in US counterterrorism aid to combat a regional Al Qaeda franchise over the past five years, police have opened fire on crowds demanding the ouster of President Ali Abdullah Saleh. On Monday, the government also expelled four Western journalists.
The US has urged both nations to avoid violence, but taken little concrete action.
"Clearly, it's good to be on the right side of history," says Hamid. "[US] policy on Bahrain, Yemen, and the Gulf appears to show that they haven't learned that lesson."
He says the crisis in Libya, where rebels are battling forces loyal to Libyan leader Muammar Qaddafi, has drawn the Obama administration's attention away from developing a strategic vision for the Middle East.
Clinton, who met with a Libyan opposition leader in Paris Monday, said Tuesday the US is looking at ways to support the opposition. As she arrived in Cairo, time was running out for Libya's rebels, who were being pushed further east by Qaddafi's forces. The no-fly zone that they have asked for is still being debated.