Golan Heights: Five keys to understanding the dispute
Weekend clashes along the Israeli-Syrian border between Israeli forces and pro-Palestinian protesters put the spotlight on the Golan Heights, a Syrian territory that Israel has controversially occupied for more than four decades. Here are five keys to understanding the dispute.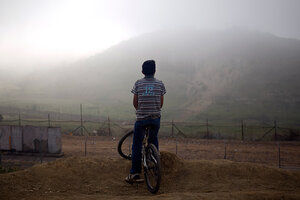 Ariel Schalit/AP
Location and status

The Golan Heights is in the northeast corner of Israel, spanning east from the Sea of Galilee and north to Israel's borders with Syria and Lebanon (see map of the region here).

The Golan was part of Syria until 1967, when Israel captured the territory in the Six-Day War (the same war in which Israel captured the West Bank and Gaza). Israel has occupied the territory ever since. Syria insists that any peace agreement with Israel include the return of the Golan Heights.

Separating the Israeli-occupied Golan Heights and Syria is a United Nations demilitarized zone with more than 1,000 UN peacekeepers. The UN Disengagement Observer Force (UNDOF) was put in place in 1974 (following the 1973 war between Israel and Arab neighbors Egypt and Syria) to prevent a resumption of hostilities along the border.