Israelis blame 'terrorist' border attacks on Gaza militants, poor security
Multiple attacks killed at least seven Israelis today near the Egyptian border. Israel's defense minister blamed militants in Gaza, while a former ambassador said Israeli forces were caught by surprise.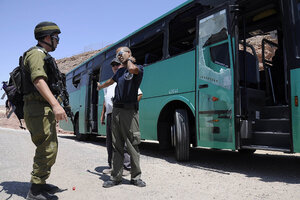 Lior Grundman/Reuters
Militants carried out a series of attacks on Israeli buses and cars on a highway near the border with Egypt midday Thursday, highlighting the deteriorating stability along the open frontier between the two neighbors.
The coordinated attacks on at least three separate targets north of the city of Eilat that left at least seven Israelis dead, including one soldier, and dozens injured were highly unusual for the quiet border region. Surprised by the scope of the attacks, Israel security forces killed some seven militants.
Israeli Defense Minister Ehud Barak said that Palestinian militants in Gaza are exploiting Egypt's weakening control in the vast Sinai peninsula since the popular revolt that unseated former President Hosni Mubarak in February.
"This incident reflects the weakened Egyptian hold on Sinai and the expansion of terrorist elements," Mr. Barak said in a statement. "The source of the terrorist attacks is Gaza and we will act against them with full strength and resolve."
In the wake of Egypt's revolution, many Israelis were concerned that the turmoil would spill over into their country. Today's multipronged assault on Israeli citizens and soldiers that came on the heels of several attacks on Israel's energy supplies drew calls for the Jewish state to bolster its defenses along the porous border with Egypt.
"We were sure that we wouldn't be able avoid the anarchy in Egypt," says Eli Shaked, a former Israeli ambassador to Egypt. "Unfortunately this time we failed to anticipate the attack and to take the necessary measures. We have a big problem along the border."
Israeli special forces respond to series of attacks
The chain of attacks began around midday, when a band of gunmen in a car opened fire on an Egged commuter bus about 13 miles northwest of Eilat, wounding seven. A military vehicle on the way to the site of the attack triggered a land mine, but wasn't affected.
As Israeli special forces pursued the gunmen on land and air, militants fired two antitank missiles against a second commuter bus and an automobile, killing at least five.
In recent months, there have been several attacks on a natural gas line supplying Israel, and there have been reports in the Israeli press citing a surge in smuggling over the border to Gaza.
Israeli officials believe that militants from Gaza crossed into Sinai and then crossed back into Israel. Egypt denied the attack came from its territory. Hamas also denied the attackers came from Gaza.
Bolstering a porous border
Just last week, Egypt deployed some 1,000 additional soldiers in Sinai after getting authorization from Israel required by the 1979 peace treaty that set up the peninsula as a demilitarized area. After the fall of Mubarak, Israel also accelerated work on a sophisticated border fence to replace the porous barbed wire border markers that area easily penetrable.
For years, the porous border between Israel and Egypt has been a smuggling route for African asylum seekers, prostitutes and drugs.
Eyewitnesses on Israel Radio reported that today's attacks were perpetrated by gunmen in Egyptian Army uniforms firing from across the border, but the Israeli army said those accounts couldn't be confirmed.
No organization took responsibility in the hours immediately following the attack.