US hikers freed: Timeline of key events
The two US hikers remaining in Iranian custody, Shane Bauer and Josh Fattal, were released today after more than two years of detention. Here are the key points in their saga.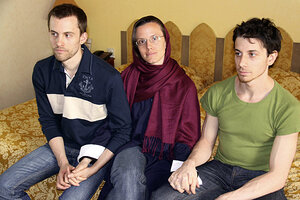 PRESS TV/AFP/Newscom/File
July 31, 2009 – Hikers arrested

Sarah Shourd, Josh Fattal, and Shane Bauer are arrested along the Iran-Iraq border. Iran accuses them of entering Iranian territory and of being spies. The three say that they were merely on a recreational hike in Iraqi Kurdistan and that if they really did enter Iranian territory, they did so unintentionally. The border there can be difficult to discern.