Who is Hamas? 5 questions about the Palestinian militant group.
The Palestinian militant group Hamas has agreed to form a unity government led by Mahmoud Abbas, president of the Palestinian Authority and head of rival Palestinian faction Fatah. But who is Hamas? What is their relationship with Fatah, and what might Hamas gain from reconciling with them? Here are five key questions about Hamas.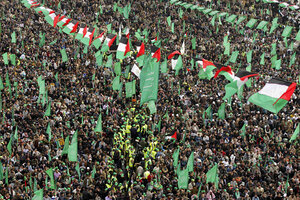 Mohammed Salem/Reuters
1.

What are the origins of Hamas?

Hamas emerged as the Palestinian wing of Egypt's Muslim Brotherhood after the outbreak of the first intifada in 1987 and is the largest Palestinian militant organization, as Kristen Chick wrote in a 2009 Monitor briefing. An Arabic word that means zeal or enthusiasm, "Hamas" is also an acronym for the group's official Arabic name, the Islamic Resistance Movement.

Its goal is to "liberate" Palestinian territories from Israeli occupation, and it has launched rockets and suicide bombers in pursuit of that end. The US, Israel, and the European Union consider it a terrorist group. But its military wing is not its only operation. Hamas also runs a large social services network and a political wing. It operates primarily in the Gaza Strip, though it also maintains offices in Damascus, Syria.