Egypt's constitution: How 5 stakeholders would shape the document
With elections now over for Egypt's parliament, lawmakers are are deciding who gets to write the country's new constitution. There is much at stake including the role of Islam in the state and the power of the military. Yet for such an important document, the timeline is rushed: The constitution is expected to be put to a referendum before presidential elections, scheduled to begin May 23. Here's what key stakeholders want Egypt's new constitution to look like.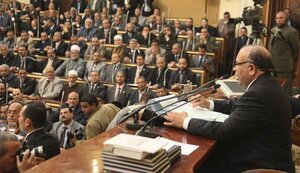 Khaled Elfiq/Reuters/File
1.

The Muslim Brotherhood

The Muslim Brotherhood's political wing, the Freedom and Justice Party, proposed in the joint parliamentary session in early March that parliament members should make up 40 percent of the constituent assembly, the body tasked with writing the constitution. That would give the FJP, the largest party in both houses, a significant say in drafting the document.

Party leaders have said repeatedly that the constitution should reflect a national consensus, and should not be dominated by any one party or ideology. "We already have a national consensus about the first four chapters – the essentials," says party leader Essam El Erian. "The genuine debate will be about the political system," whether authority is centered in parliament or the president.

Power has been concentrated in the presidency for decades in Egypt. The new constitution is widely expected to give parliament more power – the question is how much. Though the FJP's platform endorses a parliamentary system, the party has come to endorse a "mixed" system, where power is divided between parliament and the president. Under such a system, the prime minister would come from the largest party and have a more powerful role. The parliament would likely be given responsibility for internal affairs, while external affairs would be left for the president.

Another important debate will be to what extent the new constitution asserts civilian control over the military, which wants to preserve its power and privilege and exempt itself from civilian oversight. FJP leaders say they will reject military influence on the constitution or a political role for the military. But in recent months, it has declined to challenge the military council on other issues.

On the issue of Islam's role in the state, party leaders say they have no plans to change the second article of Egypt's previous constitution, which states that the principles of Islamic law are the principal source of legislation.