Bomb Iran? Why 5 top Israeli figures don't want to do it.
Israeli Prime Minister Benjamin Netanyahu's threat of a unilateral strike on Iran's nuclear facilities, supported by Defense Minister Ehud Barak, has sparked an unusually public debate in Israel about the wisdom of the move. While nearly all of those involved seem to agree that Iran poses a serious nuclear threat, they disagree about the timing and method of best countering that threat.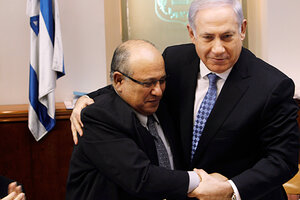 Ronen Zvulun/AP/File
Meir Dagan, former Mossad chief

Meir Dagan has spearheaded opposition to a unilateral Israeli strike on Iran since May 2011 – shortly after he retired as head of Israel's foreign intelligence agency, the Mossad.

He has called such a move "the stupidest thing I have ever heard" and "patently illegal under international law" since Iran's nuclear infrastructure is operating under the framework of the International Atomic Energy Agency.

He also opposes a unilateral strike because:
A surgical attack such as Israel's 1981 strike against Iraq's Osirak nuclear reactor is not possible because Iran's nuclear program is much more dispersed
A strike could lead to a regional war and regional, or even global, arms race
A strike could cause Iranians to rally around the current regime, strengthening its hand
Coming from a family of Holocaust survivors, he has said that, like Netanyahu, he is determined to protect Israel against existential threats. But he apparently believes that his retirement, along with that of several other colleagues, removed an important counterweight to Netanyahu, or Bibi, as he is known.
"I decided to speak out because when I was in office, [Shin Bet director Yuval] Diskin, [military Chief of Staff Gabi] Ashkenazi and I could block any dangerous adventure," he said. "Now I am afraid that there is no one to stop Bibi and Barak."