Bomb Iran? Why 5 top Israeli figures don't want to do it.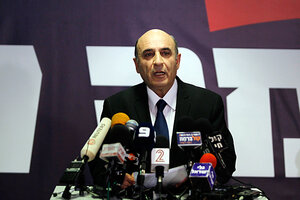 Baz Ratner/Reuters/File
Shaul Mofaz, opposition leader

Mr. Mofaz, the head of the centrist Kadima party, briefly joined Netanyahu's governing coalition in 2012. But the partnership was short-lived and Mofaz has since brought his party back to the opposition and publicly opposed a unilateral Israeli strike on Iran.

"Such action is immoral and operationally illogical under the circumstances," he wrote in late August in a letter to Netanyahu, requesting an urgent meeting on the issue.

Among the reasons he cited for his opposition, according to Haaretz, were "loss of life, grave damage to the home front and deep erosion of Israel's political situation" – as well as the danger of disrupting relations with the US.