Islam, politics, and women's rights: the view from the post-revolution Muslim world
The Pew Research Center's Global Attitudes Project polled citizens of select, predominantly Muslim countries this spring about how best to blend Islam, politics, and respect for women's rights. This summer, Gallup did a separate survey on similar issues. Here are highlights from the results.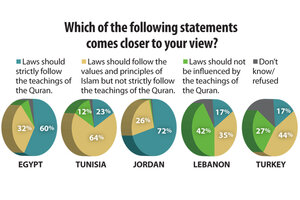 Religion and law

Interpretations of the extent to which religion should influence law vary. Some argue that laws should "strictly follow" the Quran, while others advocate a looser approach of basing laws on the values and principles of Islam.