Israeli elections: The 5 candidates steering the debate
The next Israeli government, which will be decided in elections on Jan. 22, faces pressing international challenges, including deciding what it will do if Iran crosses Prime Minister Benjamin Netanyahu's red line on nuclear production. It may also be the last with a realistic opportunity to secure a two-state solution to the Israeli-Palestinian conflict, since many analysts warn that the window for such a deal is fast-closing – in part due to the steady expansion of Israeli settlements in the West bank.
While Mr. Netanyahu's Likud-Yisrael Beitenu bloc is expected to get the most votes, he'll have to make deals with smaller parties to form a coalition with the necessary 120 seats in the Knesset.
Here are 5 players shaping the campaign conversation, some of whom may become ministers in Netanyahu's cabinet: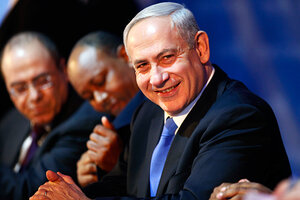 Nir Elias/Reuters
1.

Benjamin Netanyahu, your man on Iran

Benjamin Netanyahu, the incumbent prime minister who also served from 1996-99, is widely expected to serve a third term as prime minister.

"Bibi," who heads the center-right Likud party, is known for his hawkish security views and consistent warnings about the Iranian nuclear threat. He is running on a joint ticket with Yisrael Beitenu (Israel is Our Home), headed by his former foreign minister, Avigdor Lieberman.

But Mr. Lieberman's indictment for breach of trust and fraud in December, together with a rightward shift in Israeli public opinion, may have hurt Mr. Netanyahu. Polls indicate that the Likud-Beitenu ticket, originally expected to win as many as 45 Knesset seats, will instead garner only 34 to 35 seats. They also show the prime minister losing seats to right-wing rising star Naftali Bennett, who opposes a Palestinian state.

The loss of votes to more right-wing parties comes despite the fact that Likud itself has shifted to the right, with hardliners replacing moderates. Most notable may be Danny Danon, a vocal opponent of withdrawing from the West Bank, who jumped from No. 24 in the party to No. 5 in Likud's November primaries. Mr. Danon, who recently published Israel: The Will to Prevail, argues for strong Israeli nationalism – even if it angers Israel's top ally and key benefactor, the United States.