Better than expected, but still not enough: Can Hadi hold Yemen together?
President Hadi, charged with restoring stability to Yemen after the 2011 uprising, has made some progress in his first year, but disruptive political forces could still tear Yemen apart.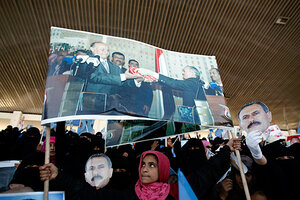 Khaled Abdullah/Reuters
It was far from the anniversary that Yemeni President Abdo Rabbu Mansour Hadi had hoped for. A year after the referendum-like election that solidified the former vice president's rise to the presidency, lingering tensions erupted in the southern city of Aden; at the end of the day, five secessionist demonstrators were killed.
And while the continuing sporadic violence has been limited to Aden and other southern cities, it affects the capital too, demonstrating the potential that historical grievances have to destabilize the country when most in Sanaa want to focus on the tentative progress that's been made since Mr. Hadi took power last year. 
Hadi took power as part of a Gulf Cooperation Council (GCC)-mediated agreement aimed at diffusing the Arab Spring-inspired uprising against his predecessor, longtime president Ali Abdullah Saleh. Inked in Saudi Arabia in November 2011, the GCC agreement granted Saleh legal immunity in exchange for his resignation, paved the way for a coalition government split between members of the ruling party and establishment opposition parties, and secured the accession of Hadi, a consensus candidate, to an abbreviated two-year presidency in a one-candidate vote last February.
Hadi's ultimate task is to pave the way for parliamentary and presidential elections in early 2014; failure, the president himself has acknowledged, would likely mean the collapse of the political process, raising the possibility of a civil war.
A collapse into chaos would likely resonate far outside the country's borders. Yemen's oil-rich neighbors fear that further unrest could destabilize the region. And the threat of the Yemen-based Al Qaeda in the Arabian Peninsula (AQAP) group, which has plotted attacks on American soil, has made a stable transition a priority of the United States.
'No one knew Hadi was this clever'
Although he was dismissed as a ribbon-cutter during his unremarkable decade and a half as Saleh's deputy, midway through his term he has managed to surpass the pessimistic forecasts of those who doubted he'd even survive this long, let alone maintain some image of control.
"No one knew Hadi was this clever – he's kept his cool despite the pressure," says Hamza al-Kamali, a leading youth activist. "But even if a lot of what Hadi's done has been good, it's not enough."
Still, definitive progress remains elusive. Hadi's generally praised steps toward restructuring Yemen's military have been overshadowed by continued uncertainty over the fates of the country's most powerful military leaders. Charged with restoring security and stability to Yemen, the transitional government has been paralyzed by partisan gridlock, leading many Yemenis to dismiss it as ineffective. 
Meanwhile, across the country, Yemenis continue to buckle under the stagnant economy. And with the central government's hand still weak, others, from Al Qaeda-linked fighters to rebels based in the far north, have proved eager to fill the power vacuum.
A key moment
What happens at the upcoming Conference of National Dialogue – which, after a series of delays, is now scheduled to begin on March 18 – will be telling. 
With representatives from among activists, politicians, and civil society organizations, the conference is tasked with addressing historical grievances and taking the first permanent steps toward a restructured, post-Saleh state, such as crafting potential constitutional amendments that would change the country's system of governance. 
While most of Yemen's various factions intend to participate in the dialogue, many in Yemen's Southern Movement have rejected the talks, saying they are structurally biased against their interests. The fractious coalition of factions demands that the formerly independent south receives a return of some degree of autonomy. In the wake of the recent violence, many Southern Movement figures who had committed to entering the dialogue have suspended their participation.
"The government needs to build trust, they need to regain public confidence," says Lutfi Shattara, one of those who suspended his participation in the National Dialogue's preparatory committee. "Until then the dialogue cannot move forward."
The southern issue is just one of many that could potentially spoil the country's transition.
Tensions linger
Saleh continues to reside in the country, wielding a large degree of power in his position as head of the former ruling party; a rally and speech by Saleh on Feb. 27 drew tens of thousands in the capital. In the far north, violence between the largely Zaidi Shi'a Houthi rebels and their tribal and Sunni Islamist foes has cooled, but tensions still linger.
In Sanaa, many fear that unresolved fractures among the political elite could cause the capital to erupt in urban warfare once again; simultaneously, many activists, frustrated over the results of 2011's uprising, have grumbled that bringing real change to Yemen may require a second revolution.
One year on, Yemen's future seems as uncertain as it was when Hadi first took office. And even if he's survived his first year in office, analysts say, Hadi's ability to see Yemen through to the 2014 elections remains anything but guaranteed.
"The GCC deal that brought Hadi to power was less a political solution than it was a mechanism to buy time," says Gregory Johnsen, author of 
"The Last Refuge," a recently published book on Yemen. "Yemen has a number of near intractable problems and unlike the other Arab spring countries all the players that were on the board before the protests are still there today. They are just fighting by different means."