New Egypt NGO law could expand Morsi's control
A draft Egypt NGO law has rights advocates warning that independent civil society groups working on human rights and democratization could be put under the thumb of the government.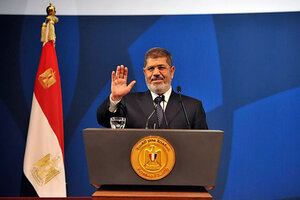 Egyptian Presidency/Courtesy via Reuters
Rights advocates are criticizing legislation proposed by Egypt's president to regulate civil society organizations, saying the law could be used to cripple organizations dedicated to documenting human rights abuses and building Egypt's nascent democracy. 
President Mohamed Morsi's advisers say they took into account the strong concerns voiced by Egyptian rights groups, the UN's human rights chief, and the US about previous drafts of the law, and that the version introduced this week "aims to provide a suitable environment for civil societies to carry out their activities freely, transparently, and responsibly."
But while the president's proposal to regulate nongovernmental organizations (NGOs) removes several measures that received heavy criticism in previous drafts, it also allows a committee formed by the government to arbitrarily reject funding for civil society organizations and to interfere in organizations' internal decisions.

Test Your Knowledge
Could you pass a US citizenship test? Find out.
The president presented his version of the law to Egypt's legislative body yesterday.
Heba Morayef, Egypt director for Human Rights Watch, says she applies two key tests to measure the ability of Egyptian civil society to operate independently. "Can they get funding? Because without funding, you can't operate. Without full free access to funding, the government can pick and choose favorites," she says. "The other is to what extent NGOs are protected from executive interference in internal decision making. On both those counts, the law fails."
The draft law does not designate NGO funds as public money, as previous drafts did. That would have opened up such organizations to increased scrutiny and government interference. It also does not set forward an explicit role for the state security apparatus in overseeing the work of NGOs, as previous drafts had.
But it leaves open the possibility for the prime minister to appoint members of the security apparatus to the committee that will make decisions about the funding and registration of NGOs. Under the regime of former president Hosni Mubarak, the security apparatus often obstructed the work or registration of organizations. Civil society representatives will also have seats on the committee.
The law requires NGOs to receive prior approval from that committee before receiving foreign funding. Rights advocates say giving a government committee control over NGO funding would allow it to cut off support to organizations critical of the government, such as those documenting human rights abuses. While there is judicial recourse, lengthy court battles will be crippling for such organizations, say rights advocates. The law also allows the committee to reject NGO efforts to raise domestic funds.
The law also requires civil society organizations to submit an annual report listing the decisions of the organization's general assembly, and gives the committee the right to reject those decisions. "This is really none of the government's business. This is all about regulating internal governance," says Morayef.
Mohamed Zaree, Egypt program manager for the Cairo Institute for Human Rights Studies, says the president's law is similar to the previous drafts that aroused strong criticism. "I consider it very restrictive toward NGOs," he said.
The president and his advisers, however, say the law would empower NGOs. In a televised speech, the president said the state does not seek to control civil society. His proposed law, he said, "enables civil society to be assured that the state will not … restrict civil society organizations that work in service of the sons of the nation."
In a statement, the administration said the law "seeks to maintain the balance between Egypt's openness to the world ... and maintaining its sovereignty and independence."