Cairo bathhouse acquittals: Was TV reporter too close to the story?
Debauchery charges brought against 26 men arrested at a Cairo bathhouse spurred international condemnation. In Egypt, a reporter's presence during the police raid raised a storm of criticism.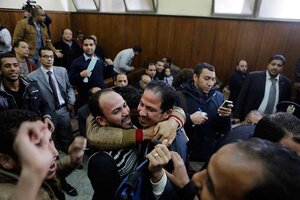 Amr Nabil/AP
The acquittal Monday of 26 men arrested naked in a Cairo bathhouse came as a surprise to many here, considering that a government-led crackdown against the country's gay community has won popular support. A similar trial recently ended in three-year sentences for all of the accused.
But this was no ordinary case, ignited as it was by a televised police raid on the bathhouse. The complicity of Mona Iraqi, a television presenter, in the arrest drew public condemnation over her cooperation with the police so their raid unfolded as her cameras rolled.
"This wasn't the first time [that the media cooperated with police], but it was the most shocking time," says Scott Long, a Cairo-based human rights activist who focuses on gay issues. "This case became symbolic for a lot of people of the way in which the media colludes with the police and the state."
Video footage showed dozens of naked men being herded into a police truck on Dec. 7, with Ms. Iraqi standing behind them, her cameraphone held aloft. She claimed to have tipped off the police and included footage in an exposé broadcast on a private, pro-regime television station the following evening.
But then the backlash began. By mid-December, Egypt's state, private, and social media were abuzz with criticism, saying Iraqi had crossed a line. When the case made it to court, her name was not in the court papers, and the sitting judge refused to call her to the stand, instead relying on the alleged eyewitness testimony of a single policeman. 
On Monday, Egypt's leading daily newspaper, Al-Masry Al-Youm, said Iraqi's actions should prompt a "flood of questions" over the relationship between a journalist and the police.
Questions about the evidence
By the final court hearing on Jan. 4, defense lawyers say, the prosecution's case had unraveled completely.
"Legally, it was based on nothing," says Islam Khalifa, a lawyer who knows what it's like to fight unpopular cases. In November 2014 he mounted the defense in what has come to be known here as the "gay marriage case," which ended with the eight defendants being sentenced to three years in prison.
In the bathhouse case, the prosecution's witness insisted he had seen the defendants having gay sex. But the state's own medical evidence – based on a medically discredited and physically abusive rectal examination – was said to indicate only that three of the men had physical indications consistent with such activity, but did not explain conclusively how these could have occurred.
The case drew stinging international criticism. "The deliberate, public humiliation of these men conducted in tandem with the media is shocking, but typical of an intensifying and troubling government clampdown on the lesbian, gay, bisexual, and transgender (LGBT) community in Egypt," New York-based Human Rights Watch said in a statement.
Ordeal not over yet
During a similar crackdown in 2001, Human Rights Watch documented more than 170 "debauchery" cases that were brought before prosecutors. Since the overthrow of Islamist President Mohamed Morsi in July 2013, police have detained around 150 people on the same charges. Debauchery is a codeword that Egypt uses to refer to homosexual acts. 
Despite Monday's acquittals, the ordeal for the men and their families is not over yet. Egypt's public prosecutor says the verdict will be appealed, and in socially conservative Egypt, it will take more than a court verdict to clear the men's names in the eyes of their communities.
"Families were torn apart because of this," says Mr. Khalifa. 
When the verdict broke, the courtroom was filled with a defiant blend of jubilation and anger. "Mona Iraqi should go to prison for this," shouted one woman, the sister of one of the defendants. "She's robbed him of something he cannot get back – his life."