Netanyahu says 'incitement' behind Palestinian's rush-hour knife attack
Wednesday's stabbings in Tel Aviv left at least nine people wounded. Any upsurge in violence could impact Israel's parliamentary elections due in March, and politicians, including Netanyahu, were quick to respond.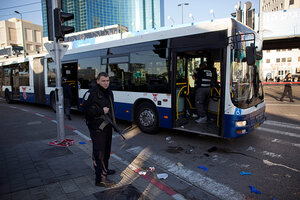 Oded Balilty/AP
A young Palestinian man from the West Bank stabbed at least nine Israelis Wednesday in an attack that began on a bus here during morning rush hour. It was the first attack on a Tel Aviv bus since Israel's 2012 war with Hamas.
The stabbings recalled a string of violent attacks in October and November that were mainly centered in Jerusalem but also included the fatal Nov. 10 knifing of a soldier at a Tel Aviv train station. Those attacks ratcheted up criticism of Prime Minister Benjamin Netanyahu from rival politicians, undermining a reputation for being tough on terrorism that had already been damaged by last summer's Gaza war.
Any upsurge in violence is likely to impact Israel's March 17 election, analysts said. Though violence usually strengthens parties advocating a hard line toward the Palestinians, it could also threaten Mr. Netanyahu.
"It weakens the prime minister's credibility,'' says Anshel Pfeffer, a columnist for the Haaretz newspaper. "The first duty of the prime minister is to provide security."
A Hamas leader, Izzat al-Risheq, a member of the militant organization's political bureau, praised the attack as "heroic" but did not take responsibility.
Netanyahu and his political rivals on the Israeli right, meanwhile, including Foreign Minister Avigdor Lieberman and Naftali Bennett, lined up to accuse Palestinian Authority President Mahmoud Abbas of responsibility.
"The terror attack in Tel Aviv is the direct result of the poisonous incitement spread in the Palestinian Authority against Jews and their country,'' Netanyahu said in a statement. "The same terrorism tries to attack us in Paris, in Brussels and everywhere."
Attacker shot and arrested
The alleged attacker, identified as Hamza Muhammad Hassan Matrouk of Tulkarem, who police said had entered Israel illegally, fled the bus and was later shot by security officers and arrested. Five commuters, including the bus driver, were wounded in the attack and were taken to the hospital in moderate to critical condition. Four others suffered light injuries.
The attack occurred at around 7:20 a.m., shortly after the suspect boarded the bus and started attacking the driver and other passengers. Witnesses travelling behind the bus knew something was wrong when it suddenly started to swerve and abruptly stopped. Passengers then ran away in panic.
"The bus driver fought with the terrorist and tried to resist the attack," said the Tel Aviv district police chief, Bentzi Sau.
Shlomo Machdad, who works at a shop nearby, said he saw victims fleeing the bus after it stopped at a busy intersection. He said one person had been stabbed in the chest.
A team of prison guards who happened to be traveling behind the bus fired in the air and then pursued the attacker, who managed to stab one pedestrian before being shot and arrested on a side street a few hundred yards away. Minutes later, police shut down the intersection with red police tape and ambulances rushed to local hospitals with the wounded.
Netanyahu was first elected in 1996 after a string of deadly bus bombings by Palestinian groups undermined support for then-Prime Minister Shimon Peres of the Labor party.  
On Wednesday, Netanyahu's leading election rival on the left, Labor party chairman Isaac Herzog, used the stabbing to criticize the government. 
"Israeli citizens don't have a feeling of security today – neither in Jerusalem, the Gaza Strip perimeter, or in Tel Aviv,'' Mr. Herzog wrote on his Facebook page. "That reality must change."