Islamic State: Amid hostage crisis, Assyrians and Kurds join forces
Activists decry Islamic State's eradication of thousands of years of Assyrian history even as Christian and Kurdish fighters seek to regain territory taken by the jihadists in Syria.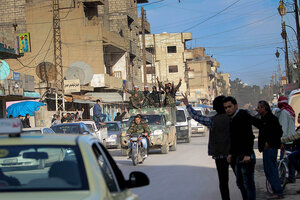 Rodi Said/Reuters
Syrian Assyrian Christians and Kurds have joined forces in a bid to regain territory from the Islamic State group, which seized dozens of Assyrian villages and scores of hostages in northern Syria this week.
The relocation of the hostages into the IS heartland and their group's slaughter of religious minorities in Libya and Iraq have sparked fears of genocidal massacres.
The fight for survival along the banks of the Khabur River is starting to bear fruit, but the fate of up to 280 Assyrian men, women, and children held by IS remains in the balance, with local tribes desperately trying to broker their release. The crisis has sent hundreds of families fleeing to Kurdish strongholds in Syria.
"The Islamic State is waging a campaign of genocide against the Assyrian people. We are watching a living history of thousands of years disappear and doing nothing to stop it," says Mardean Isaac, an Assyrian writer working with A Demand for Action, a Britain-based group lobbying for the protection of religious minorities in Iraq and Syria.
The Assyrian community speaks a form of Aramaic, the language spoken by Jesus, and traces its roots back more than 6,500 years to ancient Mesopotamia, predating the Abrahamic religions. Assyrians were among the earliest converts to Christianity.
Assyrians sheltering with Kurds
More than 1,200 Assyrian families have fled the area in fear of IS, the majority of them finding shelter in the Kurdish-held cities of Qamishli and Hassakeh, according to the Assyrian Monitor for Human Rights, an activist network with a base in Stockholm. Local activists estimate 6,000 refugees are in need of humanitarian assistance in those cities, among them Arab Muslims.
The fighting Friday centered on Tel Jumaa, Tel Hamis, and Tel Taweel, three villages in the Khabur River Valley, a fertile area that was once Syria's leading wheat-producer.
The US-led international coalition against IS has stepped into the conflict, unleashing scattered air strikes over the past 48 hours.
On Friday, the Syrian Kurdish YPG militia (People's Protection Units) released images of their fighters rolling into the flat-roofed village of Tel Hamis on pickup trucks mounted with machine guns and planting their flag in the area. But a more important battle is underway in Tel Tamr, the largest town in the valley, which bridges the river and connects territory that's important for both camps.
"There is cooperation now with the coalition forces to cover the battle in Tel Tamr," says YPG spokesman Redur Khalil. "I believe in the coming hours and over the next few days the balance of power will change."
IS, for its part, boasted on social media that it was laying siege to the village of Agheibesh, where it carried out a suicide attack that allegedly claimed the lives of eight YPG fighters and led to the capture of 10 others. An activist group monitoring IS abuses said 10 YPG fighters were executed Thursday in Tel Abyad.
Past slaughters recalled
Kurdish and Assyrian community leaders are calling for heavy weapons and ammunition so that their fighters can counter the threat posed by IS. That scenario is unlikely in the immediate future given the strong reservations of Turkey, which does not want to see an inimical Kurdish group empowered along its border with Syria.
Many worry the Assyrian captives will meet a similar fate to that of the Egyptian Copts who were slaughtered on the shores of Libya this month or that they will be massacred and enslaved like Iraq's Yazidis. They recall the genocidal assaults their ancestors suffered when the Ottoman Empire crumbled in 1915 and in Iraq in 1933.
The current crisis began in early February when IS militants ordered villagers to take down the crosses from their churches, a demand that was flatly refused in most cases. Fearing an escalation, lightly armed Assyrians guarding the villages north of the river sought help from the YPG, which played a key role in the triumph over IS in Kobane.
The Assyrians, some observers say, have become pawns of the larger power struggle between IS and the Kurds, a conflict that is fanning ethnic tensions in Syria and Iraq. "IS has taken the men as prisoners of war and the women as slaves because they were ostensibly abetting people who are fighting for IS," says Mr. Isaac, the Assyrian writer.
"It is very hard to accept that overnight your presence in this region is over," says Mais Edward, an Assyrian now living in Stockholm. "It is awful to think that your memories are over, that you will never relive them again. That the people you saw every day at home, at school and at work are gone."
Ransom for earlier hostages
Disrupted phone networks and the difficulty of getting information from the region add to the overall sense of anxiety. There are 280 missing people who are believed to be in the hands of IS, most of them elderly, women or children, according to Assyrian activist groups monitoring the situation.
"IS moved the majority of them to Shadade and they took some to Raqqa," says Omar Abdel Aziz, an activist based in Hassake who is in touch with civilians living in those areas. "The women have been placed in the homes of civilians and are being treated as people of the book," he says, raising hopes they won't be harmed.
He recalls that a smaller hostage crisis last year, in which 20 members of the community were abducted, was resolved through a payment that the Assyrians viewed as ransom and IS welcomed as "jizya," a tax that Muslim rulers in the past demanded from their Christian subjects in exchange for protection.
There have be no formal statements from IS on what the conditions would be for the release. The running rumor is that they are calling on President Barack Obama to stop bombing their areas and are willing to spare civilians in exchange for money or prisoners but not fighters.
"The negotiations for the release of IS-held prisoners have started," reports the Assyrian Network for Human Rights. "They are shrouded in secrecy to protect the safety of the hostages and guarantee their success."