Is top ISIS leader Hafiz Saeed dead?
ISIS leader Hafiz Saeed was killed in a drone strike, say Afghan officials. Is the US military's strategy of killing senior Islamist leaders effective counterterrorism?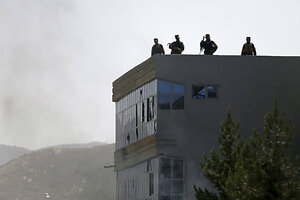 Omar Sobhani /Reuters
A senior leader for the Islamic State in Afghanistan and Pakistan has been killed in a US drone strike, according to reports by Afghan authorities.
Afghanistan's National Directorate of Security (NDS) claims that Hafiz Saeed and 30 militants were killed in an airstrike in eastern Afghanistan on Friday. "Based on NDS intelligence, HAFEZ SAYEED, The leader of Daesh (ISIS) in so called Khurassan state was killed in an air strike in Achin, NGR," the NDS said in its official Twitter page.
The US military has not confirmed whether or not Saeed had died in the airstrikes. "Were there some leaders among those killed? Probably, but we have no confirmation," a senior U.S. military official told NBC News.
Saeed, who is Pakistani, is a former Taliban commander and joined the Islamic State late last year. In 2012, the U.S. offered a $10 million bounty for information leading to his capture, accusing him of planning the 2008 attacks in Mumbai, Kenya, that killed 166 people.
In April, there were reports that the Islamist militant group leader Abu Bakr al-Baghdadi had been killed in an airstrike. The group later released a video apparently showing the leader alive.  
Opinions differ over the Pentagon strategy of killing senior Islamic terrorist group leaders in counterterrorism operations. While the killing of senior jihadists leaders has forced terrorist groups to replace their leaders, critics of drone strikes say that the deaths have done little to stop the spread of islamist groups and their control of territories in Middle East and Africa.
For instance, over the past year, the US military has conducted several airstrikes that have killed senior Al Shabab leaders, including one in September 2014 that killed Ahmed Gobane, the group's co-founder. And another strike in March, killed Adnan Garar, a senior Al Shabab member believed to have been the mastermind behind the 2013 Westgate Mall terror attack that killed 67 people in Nairobi, Kenya.
The deaths of Gobane, and Garar, may have set the group back, but only for a while. The Somali terror group on April 2 attacked students at Kenya's Garrissa University and killed at least 147. The group has claimed responsibility of a series of bomb attacks in Somalia's capital recently as well the death of 14 people in a dawn attack in Kenya earlier this week.
A study on terrorism leadership deficits and militant tactics, reveals that decapitation strikes with drones make militant groups more likely to attack civilians. "Leadership deficits promote terrorism by empowering lower level members of the organization, who have stronger incentives to harm civilians," Max Abrahms, an assistant professor of political science at Northeastern University and co-author of the study, wrote in a blog post. 
Others however say drone strikes are a necessary and effective counterterrorism tool. When experienced leaders are eliminated, the result is "the rise of lower leaders who are not as experienced as the former leaders" and who are prone to errors and miscalculations. And drones also hurt terrorist organizations when they eliminate operatives who are lower down on the food chain but who boast special skills: passport forgers, bomb makers, recruiters, and fundraisers." writes Daniel Byman for Foreign Affairs.