Syria in crisis: The key players in the deepening conflict
Russia's intervention into Syria has been described as a "game changer," adding a new dimension to a war that in the past 4-1/2 years has left a quarter of a million people dead and triggered the worst refugee crisis since World War II. The conflict has attracted a kaleidoscope of local, regional, and international players all vying to prevail.
The following is a primer on the current "who's who" in the Syrian conflict.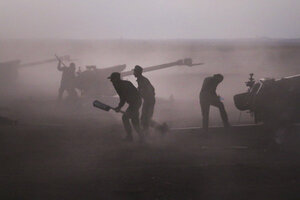 Alexander Kots/Komsomolskaya Pravda/AP
1.

How strong is the Syrian Army?

Before the war in Syria began in 2011, the total strength of the Syrian military, including Air Force and Navy, was estimated to be around 300,000. But the military has been decimated by four years of bloody conflict, desertions, and defections, and around 80,000 to 100,000 troops now remain.

The Syrian Army is backed by the National Defense Force, a loyalist militia comprising about 80,000 fighters. Many Syrian supporters of President Bashar al-Assad prefer to join the NDF as they are better paid than Army soldiers and tend to serve in areas close to their homes.