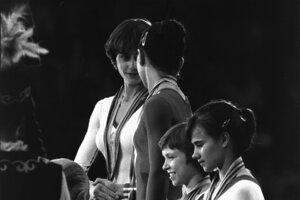 AP Photo
2.

The first perfect 10

At the 1976 Olympics in Montreal, Romanian gymnast Nadia Comaneci became the first female gymnast ever to be awarded a perfect score of 10. She was 14 years old.

Comaneci received her perfect score for her routine on the uneven bars. It was the first time in modern Olympic gymnastics history a 10 had been awarded, and the scoreboards were not even equipped to display it.

"The nature of competitive gymnastics has changed dramatically since 1960s towards more skill, strength, and power," Professor Markula says. "However, the size of gymnasts has diminished and while the actual performance requires great power, and the appearance of the gymnasts is quite muscular, their size leads them to be referred as 'little pixies' or little girls."

Comaneci earned six additional 10s at the Montreal Olympics, winning her three gold medals, including one for the All-Around title. She was the first Romanian gymnast ever to win the All-Around title at the Olympics.

Between 1976 and 1981 Comaneci had a sensational career as a gymnast, winning gold medals in the World Championships and European Championships. She also won two gold medals at the 1980 Moscow Olympics.