Olympics gymnastics: 5 athletes to watch
Some of the best Olympic drama can be found on the high beams or mats. This is the stage where Kerri Strug and Nadia Comaneci became global stars. Any slight wobble or misstep can undo a performance, making gymnastics competitions far from predictable. Butt here are five gymnasts who should find themselves in the medals hunt in London.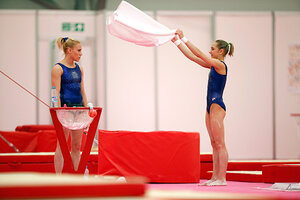 Matt Dunham/AP
Viktoria Komova, Russia

It's been 24 years (and five Olympics) since a Russian gymnast last won the women's all-around competition, but Viktoria Komova, a 5 ft. 1 in., 76-pound dynamo nicknamed "Vika," might just end the drought. At last year's world championships in Tokyo, she was edged out for the all-around title by American Jordyn Wieber, whose hair's-breadth winning margin was disputed by the Russian gymnastics federation. The battle for gold in London may boil down to which of the top contenders – Komova, fellow Russian Aliya Mustafina, Wieber or her teammate, Gabby Douglas – is most consistent and can avoid falling.

Komova is from a gymnastics family. Both her parents were gymnasts. Her mother, Vera Kolesnikova, won the all-around championship at the 1986 Goodwill Games and is now a gymnastics judge. Her daughter's bright prospects for stardom were evident in 2010, when she was the all-around winner at the 2010 Youth Olympic Games and followed that up with her strong showing at the 2011 worlds, where she won the uneven bars event.