Olympics track & field: 5 athletes to watch
With 49 different events from the women's 3000-meter steeplechase to the men's shot put, track and field has far more than five athletes to watch, but here are some of the most-watched.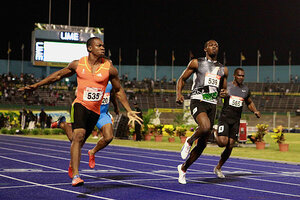 Gilbert Bellamy/REUTERS/File
1.

Yohan Blake, Jamaica (sprinter)

The man to watch on the track in London, as in Beijing, is clearly Usain Bolt. In Beijing, the Jamaican not only won the gold in the 100- and 200-meters, but set world records doing it. Enter Yohan Blake, whom Bolt calls the "Beast." The reason? "Because when you're sleeping, I'm working," Blake told the British newspaper the Guardian. That work ethic has made him perhaps the co-favorite for the 100- and 200-meters in London with Bolt. In the Jamaican trials, Blake won both races.

In fact, Jamaica has a decent chance of sweeping the men's 100 meters, with Asafa Powell also a medal contender. American Tyson Gay, for one, hopes to break up that trio. But if the Jamaicans can manage it, they will match what their women did in Beijing, taking gold, silver, and bronze in track and field's showcase event.