2012 London Olympics: Don't blink or you'll miss the speeding objects
Besides the swiftness of the athletes themselves, the Olympics showcase the speeds at which they can throw, kick, and propel a variety of balls and objects. While little information is available on some of these speeds, here are the best approximations of how fast things may be traveling at the London Games.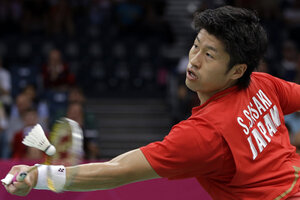 Andres Leighton/AP
1.

Badminton shuttlecock

162 m.p.h.

Although bullets obviously are the fastest-flying objects at any Olympics, when it comes to athlete-generated speeds, badminton, of all sports, appears to be king of the hill. For spectators who've played backyard badminton, this may come as a surprise, but world-class competitive badminton, at which Asians excel, is a totally different game. The shuttlecocks (or "birdies" to the casual fan) contain 16 goose feathers eventually have parachuting effect in flight, but, the speeds coming off the racket are almost blinding.