What is Russia's security plan for Sochi Olympics?
From 'alpha' anti-terrorist squads to sonar equipment and drones, what kind of security does Russia have in place for the Winter Olympics?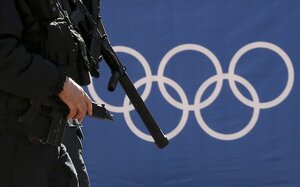 Sergei Karpukhin/Reuters
From toothpaste bomb warnings to 'black widows,' the run-up to the Sochi Olympics has been fraught with more security concerns than any other Games in recent memory.
The 22nd Winter Games also have the largest security operation in Olympic history, with Russian authorities pledging that threats from its restive Caucasus region will not disrupt the world's premier sporting event.
When the International Olympic Committee awarded the Games to Russia seven years ago, separatist groups in the Caucasus appeared to be under control and the committee was dazzled by President Vladimir Putin's personal pledge for a safe and well-funded Winter Olympics. The event would be the first Winter Games the nation had hosted and a symbol of the new Russia.

Test Your Knowledge
Could you pass a US citizenship test? Find out.
Fast-forward to today, and threats against the Games by Islamic separatist groups from the Caucasus, two suicide bombings in Volgograd last month, and security warnings from the US Department of Homeland Security and the State Department have some athletes, parents, and fans feeling jittery. Russian officials counter that security concerns are overhyped – saying the most restive areas are at least 400 miles away – and will start to dissipate as competition begins.
Here's a look at just what kind of security Russia has put in place, from "alpha" anti-terrorist squads to sonar equipment and drones.
How big is the "ring of steel"?
The so-called "ring of steel," is an area roughly 60 miles long by 25 miles wide that surrounds Sochi. Russia has reportedly spent $2 billion on the zone, which has been sealed off the past month. Inside the area, "the local population and visitors will be subjected to near total surveillance," The Christian Science Monitor's Moscow correspondent reported last month. Cars that are not registered in the region are banned in the zone, and all foreigners and Russians who visit the area must register with the police within three days of arriving, according to the New York Times. 
How many forces are on the ground?
Russia Beyond the Headlines, a branch of a state-owned Russian newspaper, says that over 30,000 law enforcement officials will be providing security at the Games. Mark Galeotti, a Russian security expert at New York University told the Monitor that security measures will include about 25,000 special police, 8,000 interior troops, and up to 30,000 regular troops to patrol the borders with Georgia and the breakaway republic of Abkhazia. 
What about in the sky?
Russia will have at least a dozen drones and cutting edge S-400 and Pantsir-S anti-aircraft missiles to counter airborne threats, according to the Monitor. The water won't be left out; along the coast four anti-patrol boats with divers and sonar equipment will keep watch.
What's the ratio of security forces to athletes?
There are 26 security officials per athlete at the Games, according to Voice of America.
Any other precautions?
Russia has banned all liquids and gels in carry-on bags on domestic flights (an order in place before the US warning on toothpaste came out this week, although the Associated Press reports it's loosely enforced). There are also multiple x-ray scanners and metal detectors across Sochi. The city is inspecting all "postal parcels" arriving there, according to Russia Beyond the Headlines.
How much security coordination is there between Russia and the United States?
Russian and US authorities have said they are cooperating on security, although it's not clear how closely. The US Navy has stationed two warships in the Black Sea to be on standby in case there is a need for an evacuation of Americans. 
In a recent interview with CNN's Jake Tapper, US President Barack Obama said he "couldn't discount" the possibility of an attack, but the Russian authorities "understand the stakes," and "we've looked at their [security] plans." 
"What I would say is that if you want to go to the Olympics, you should go to the Olympics," President Obama said. "And, you know, we're not discouraging, in any way, Americans from participating in what is just always an amazing, wonderful event.