Why USA will win Sochi Olympics medal count. (It's not what you think.)
Team USA is favored to top the Sochi Olympics medal count in large part because America has innovated a unique Olympic ecosystem that thrives without a penny of federal money.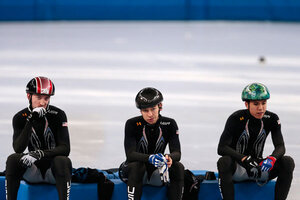 Ivan Sekretarev/AP
Something very American is happening in Dostoyevsky Hall at the Main Press Center of the Sochi Olympics.
The formal press conference for the US short track speedskating team has ended, and Jordan Malone is sitting to the side of a stage, completely at ease, chatting with the journalists who have huddled around him like freezing men before a fire.
At the moment, he's talking about how his aunt Dina has to buy his blades ($500 a set), because he frankly doesn't have that much money to spare. It is the archetypal tale of the American Olympian: passionate, supremely talented, and nearly broke.
Yet the scene unfolding in Dostoyevsky Hall on the Tuesday before the Sochi Olympics opened echoes in ways deeper than the obvious. What Malone says, how he is acting, and the fact that he is even here – paraded before the media when he would almost certainly rather be doing anything else – speaks to what has made the United States unique in the global Olympic movement.
Arguably no other nation's Olympic team is so intimately intertwined with the people of the nation it represents, because no other Olympic team is so dependent upon those people for its success. 
Among top Olympic nations, the United States is alone in providing no government funding. This, as Malone will tell you, can create its challenges. Malone's competitors from South Korea probably don't need their aunts to buy their blades.
Yet beneath the very real narrative of hardship this creates among many American Olympic athletes is an equally profound narrative of success. The United States is expected to top the overall medal table in Sochi, and, ironically, the very lack of government funding could in some ways be cited as a driving cause.
More with less
Without government largess upon which to depend, the United States Olympic Committee (USOC) has been forced to run itself like a business, accounting for every dollar and constantly reanalyzing itself to make sure those dollars are spent in the most effective way.
In striving to act like an accountable business, the USOC has excelled at selling itself to sponsors, marketing its team, and establishing spending mechanisms that target the most successful and promising athletes.
And in struggling to make a living playing the sports they love, American athletes have received a clear (if at times brutal) message: The winners get the money, and with no golden parachute of government-funded stipends to fall back on, success becomes a sort of Olympic Darwinism – a natural selection of the best team the nation can produce.
Here in Dostoyevsky Hall, that entire process culminates in a slight, soft-spoken short track skater who had to claw his way back from injury and the related time away from the sport (and the harsh funding cut that came with it) to make it to Sochi.
Along the way, Malone has had to turn to the Internet to ask strangers for money for rent, food, and skating boots. And now that he's made it here, the USOC has pushed him before a crowd of American journalists to tell his story, because it knows the more Malone and his teammates inspire the American public, the more money will flow to the organization from sponsors and donors.
Malone, after all, has a great story to tell.
Selling stories
These days, a handful of countries hold pre-Olympics press conferences with their athletes, as the USOC has done in the Main Press Center this week and in recent Olympics past. Canada, in particular, has latched onto the idea. Britain, Japan, and France also have followed suit.
But most don't. Don't expect Austrian alpine skiers to process through the Main Press Center to be bombarded by questions about whether their moms will be in the stands or what the security is like in the Olympic Village. No journalist is keeping his schedule open for the Russian cross-country team to make an appearance.
The implication is obvious and has merit: They don't need to court the media, and their athletes have better things to do.
But the fact that the USOC has to be accountable to the public (in this case through the media) has a deep effect on how the Olympics are viewed in America. Foreigners watching NBC's coverage understandably complain about how it's all profiles and weepy backstory. To the USOC, however, this is simply a matter of promoting its product to potential investors.
At a press conference this week, Lisa Baird, head of marketing for the USOC, had her sell down. The organization has suffered no loss of revenue from the controversies surrounding Sochi – from the Russian antigay law to security concerns – because its partners love that US Olympic athletes reflect the diversity of America at large, she said.
Notably, she didn't say the sponsors loved luging and curling, but the athletes.
Visa did not invest in the US women's ski jumping team because Americans love ski jumping. It invested in the women's ski jumping team because Americans likes them: Their personalities and the story of their years-long struggle finally to be accepted as a sport at the Olympic Games this year.
That sponsorship brought the US women's ski jumping team $251,000, which doesn't sound like much until you realize the US Ski and Snowboard Association (USSA), the sport's governing body under the umbrella of the USOC, gives the team only $50,000 a year.
At times in the past, the team has actually held bake sales.
GoFundMe, please!
Such stories are, of course, intimately woven into the American Olympic narrative. After a string of poor results, alpine skier Marco Sullivan had to "buy his way back on the team" he said at a press conference Thursday – meaning spending a lot of his own money as USSA money dried up along with his results.
Malone and many of his teammates had to do much the same thing, and in their case, that meant turning to the Internet. Crowdfunding sites like RallyMe and GoFundMe are basically the Olympic bake sales of the 21st century, and the short track team says these sites came into existence at just the right moment. Since Apolo Anton Ohno retired in 2010, it's been hard for US short track to get money, recognition, or results.
"I had my funding cut pretty drastically," said Emily Scott at the press conference. But on GoFundMe, she found 650 donors who are now personally invested in her Sochi adventure. "It goes to show that the whole nation is behind all of us.... It's an amazing thing what complete strangers did for all of us."
Malone was able to raise $4,000 on GoFundMe. "If I didn't have that $4,000, I wouldn't have skates to skate on" – skates that go for $2,500 a pair, he said. The money also pays for food and rent and "got my mom and girlfriend to the Olympics."
The donors "don't know how much it helps," he said.
Over the next fortnight, Americans will get to watch how much it helps.
The entire Olympic venture is growing more competitive, with more countries competing and competing well. Meanwhile, host countries from China to Canada to Britain throw huge sums of money at their Olympic teams in order to boost performance for their home Games.
Yet Olympics after Olympics, America consistently places more athletes on the podium than any other country. And that means placing them before the press in Dostoyevsky Hall, even if the Germans might never consider doing such a thing.
At an event where clichés are piled on thicker than the mountain snow, one rings unmistakably true: American Olympians are here to represent the United States.